These pages are dedicated to William and Robina Elliott and their journey from Scotland to Alberta, and the family history of their ancestors and descendants.
Robina in 1915 with her first three children: Peggy, Ruby, and John.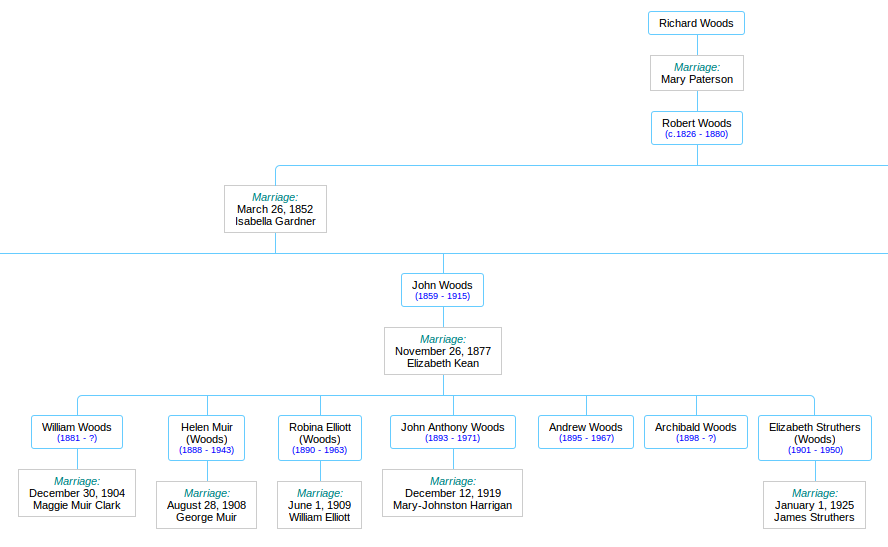 Part of the Woods family tree
Robina Kean Woods was born on June 9, 1890 in Paisley, Renfrewshire, Scotland. She had six siblings that we know of: four brothers (Willie, Andrew, John, and Archie) and two sisters (Helen or Nellie, and Elizabeth).
Her father John Woods (born 1859) was a carter by trade. John married Elizabeth Kean (born 1858) in 1877 in Johnstone, a town in Renfrewshire not far from Paisley. John's parents were both born in Ireland and came to Paisley around 1850 seeking better opportunities in the bleachworks of Paisley. The Kean family came from Wigtownshire (now Dumfries and Galloway) in the south of Scotland. Elizabeth's father and her mother's father were both shoemakers.
Read more about the Woods and Kean families.
In 1909, Robina was employed as a domestic servant. That's the year she married William Elliott, who was an engineer at the J. & P. Coats Threadmill in Paisley. The threadmill was a major employer in the Paisley area, and at least two of Robina's siblings worked there too.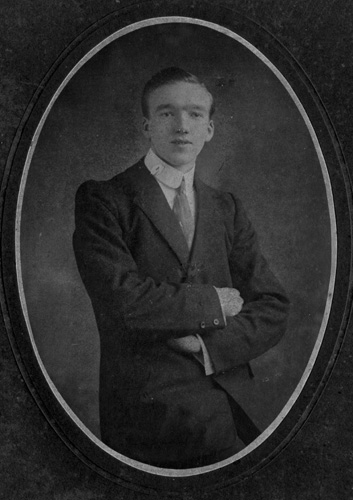 William in 1908, about a year before his wedding.
William Elliott was born on March 27, 1890 in Paisley. He was the first of ten children, six of whom reached adulthood: five brothers (John, Matt, Jimmy, and Archie, as well as Frank, who was killed on the Western Front during WWI), and a sister, Mary. Twenty-one years separated William from the birth of his youngest brother Archie. Owing to this age spread, William and his brother Frank fought in the First World War, while his younger brothers Matt and Jimmy were of an age to see service in the Second.
William's father John Elliott was born in 1859 in County Fermanagh, Ireland. John's grandfather Archibald Elliott (born about 1781) was a tenant farmer in County Cavan, Arva, Killashandra parish. While the family no doubt originated long ago in Scotland (the Elliotts/Elliots/Eliots are traditionally a clan from the Scottish lowlands close to the English border), they spent several generations in northern Ireland as part of the Ulster Plantation. John and his sister Mary Jane were both born in Ireland, and at some point between 1861 and 1864 (when John was between two and five) the family moved to Paisley where at least six more children were born: James Ingram, (another) William, Sarah Ann, Bessie, Margaret, and Archibald.
(It will be noted that the family tended to re-use the same names in each successive generation, with particular emphasis on "John" and "William"— a most confusing practice to those who would like to research the family history).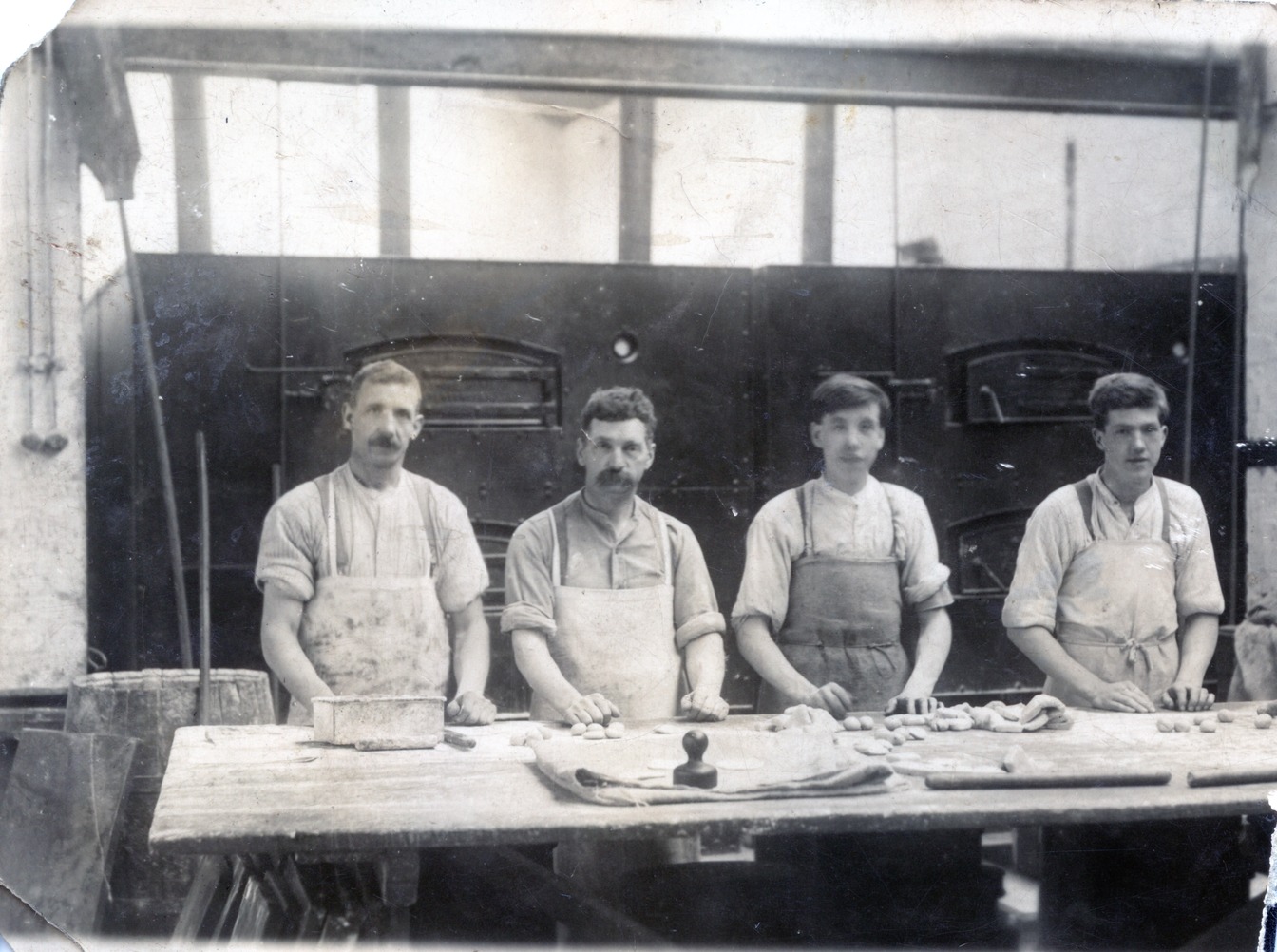 One of these two men is John Elliott (1859-1917) and the other is probably one of his brothers. We think that John's son William (1890-1949) is the boy in the middle.
Part of the Elliott family tree
This John Elliott— the one born in 1859 in Ireland— was a "fireclay labourer", a job description that generally involves working with pottery, ceramics and bricks. John, along with his brothers William, James Ingram, and their father (also named William), all worked in fireclay or brickwork. John's sons did not follow in his footsteps— young William, as we have seen, went to school and got a job in the threadmill. Matt and Jimmy were bakers. Archie also worked in the threadmill for his whole life.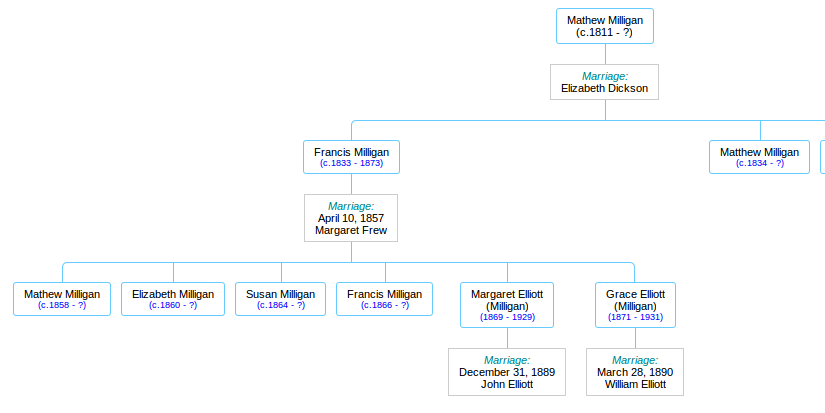 Part of the Milligan family tree
In 1889, at the age of 30, John married 23-year-old Margaret Milligan. Margaret's family were coal miners from Ayrshire. Margaret's grandfather, Mathew Milligan, came from Ireland to Scotland in the early 1800's and started off working in the Ayrshire weaving industry but soon moved to the coal mines, where his son Francis would work too.
Read more about the Elliott and Milligan families.
Robina and William got married on June 1, 1909 when they were both 19 (she was actually just shy of her 19th birthday). They were married at the Holy Trinity Church (now Holy Trinity & St. Barnabas Episcopal Church) in Paisley. Robina's family were mostly Evangelical Presbyterians, but the Elliotts were firmly in the Scottish Episcopal Church (Anglican), possibly a hold-over from the family's origins in Northern Ireland. Their first son, John, was born nine months later, on March 8, 1910. William must have been moving up at the threadmill, because the family was transferred to a company-owned house shortly after John was born.
Military service has been important throughout the family's history. William served in the Territorial Force and therefore was called up immediately on the outbreak of World War I, and his brother Frank volunteered shortly after. William was injured during the Gallipoli campaign in July 1915, and this injury, while not life-threatening, cut short his military service (he was discharged well before the war was over, in December 1915); it also somehow compelled him to give up his career at the threadmill. Two of his sons report (via their memoirs, which we'll get to in a moment) that he was "gassed", but we have reason to doubt these reports. A third son says that William was "buried alive". The only hard evidence we have comes from War Office records which show William was treated in a field hospital for a shrapnel wound to his hand on July 13, 1915, the day after a major battle. The mystery of why he had to give up his job at the threadmill is discussed at greater length elsewhere on this site.
In any event, as of January 1916 William found himself unemployed with three small children to feed. We know that he became quite disillusioned with education, since it had been of little benefit to him. Early in 1917 he got a job as a gamekeeper at a wealthy estate. What qualified him for this occupation is a mystery, but he pursued it for the next ten years from one estate to another across the Scottish Highlands, bringing his family with him and adding four more children in that time.
In time he found out about the Soldier's Settlement Land Program, a government aid program that settled war veterans on farmland throughout the British Empire (mostly Australia and Canada) and trained them to become farmers. The family looked at the brochures provided and decided they would take a homestead in Alberta, and in March 1927 they sold almost all their belongings and boarded a ship for Canada.
Of the seven children who made that voyage, four have left us with valuable written descriptions of their early life in Scotland and Alberta. Peggy, the eldest daughter, was the first to write a brief recollection in 1981. In 1988 three of her brothers (Bill, Bob and John) independently wrote their own memoirs. These memoirs cover much of the same material, but they each have a unique point of view.
Peggy's story, written by Margaret (Peggy) Stirton in 1981.

Bill's story, written by Bill Elliott in 1988.

Bob's story, written by Bob Elliott in 1988.

John's story (the longest), written by John Elliott in 1988.
William (L) with his eldest son John in Calgary, possibly 1947.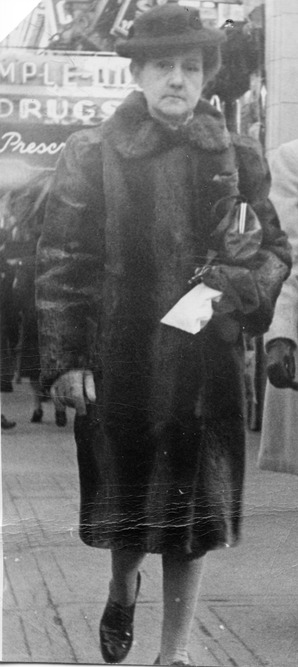 Robina in Calgary, 1944.
Peggy's and Bob's stories best describe the difficulty of the early years in Alberta and the culture shock they experienced in their new environment. Despite the hardship, two more children were born after arriving in Alberta. But William was not, alas, successful at farming, and had given it up (except as an occasional hobby) by 1934, at which point he moved to Calgary with Robina and their youngest children who were not out on their own yet. Four of their sons (John, Bill, Matt, and Bob) volunteered for service in the Canadian Army and went overseas during World War Two. Bob was underage when he signed up but he lied about his age and went anyway, driving a tank onto Juno Beach in the early hours of D-Day, and later participating in the liberation of Holland. Bill was a driver and took part in the evacuation of Dunkirk. Matt participated in the Allied invasion of Italy. John was a military policeman. The youngest son, Chuck, was too young to sign up during the war but he joined after the war was over, serving overseas in the post-war occupation force. All five sons came back from their service alive, though not entirely unscathed.
In an earlier version of this essay I stated that Robina became increasingly estranged from her children as she got older, but having had the opportunity to speak with more of her grandchildren and other people who knew her, I now realize that this is not strictly accurate. She certainly rubbed some the wrong way, but others admired her greatly. She was, it seems, a very complex person.
William and Robina had marital problems, and they separated in 1940, though they never got divorced. William worked as a janitor and security guard for James Richardson and Sons in Calgary, and during World War Two he served as a sergeant in the Canadian Army Reserves in Calgary. He died fairly young, succumbing to gall bladder cancer in 1949 at the age of 59. Robina lived on for thirteen more years as manager/caretaker for an apartment building in Calgary. She died of stomach cancer in 1963, aged 72.