Peggy's Story
This essay was written by Peggy Stirton (born Margaret Muir Elliott on December 16, 1912) as a toast delivered at the Elliott family reunion in Rocky Mountain House, Alberta on August 1, 1981.
---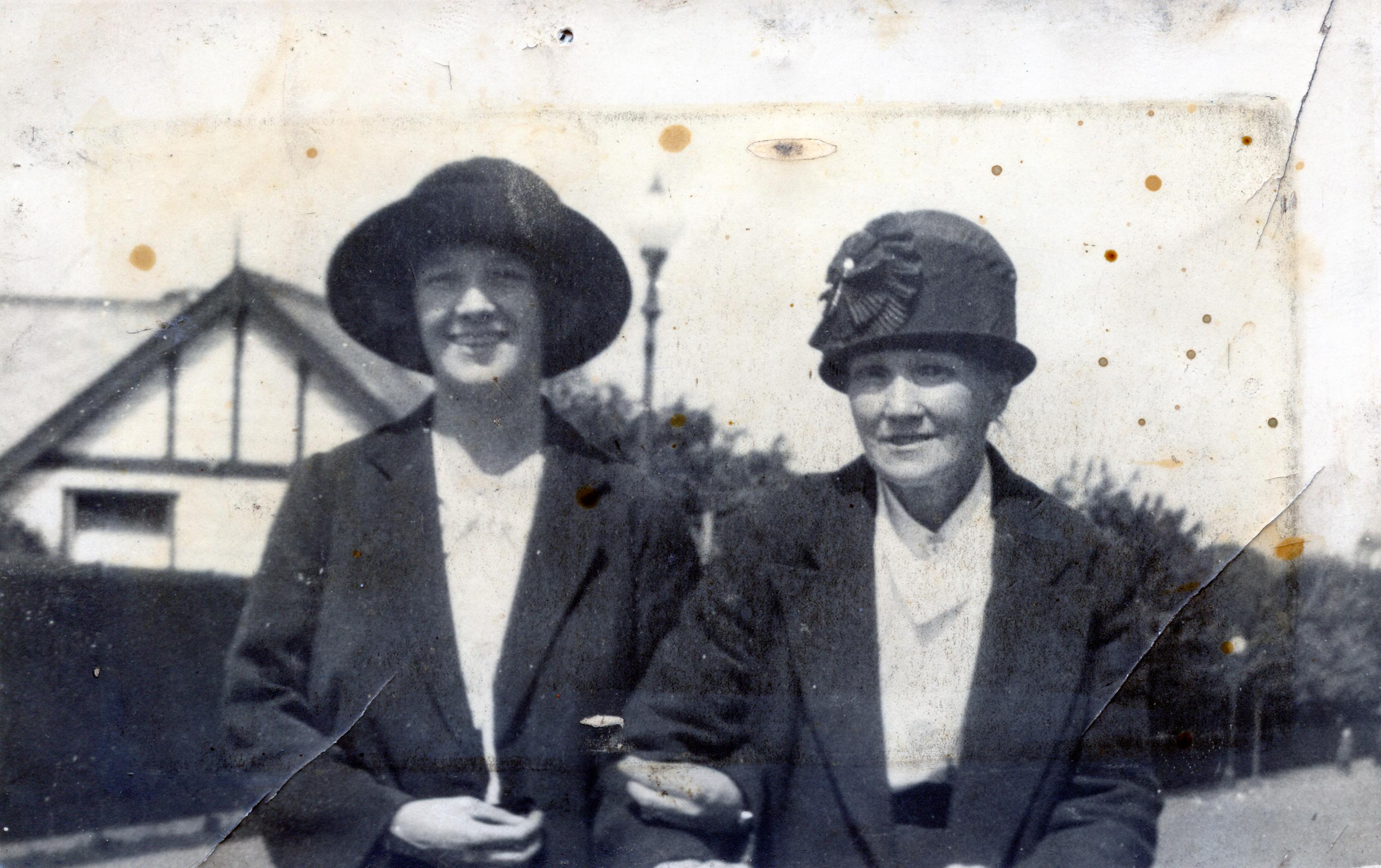 Margaret Elliott (Milligan)
This is a photo of "Grannie" (Margaret Elliott née Milligan, 1869-1929) taken on November 19, 1926, four months before her eldest son and his family departed for Canada.
A Father, Mother and 7 children left northern Scotland in March, 1927. The oldest, John, just released from the army so he could go with the rest of the family. Peggy just finished grade school, of age when she would go out to service. Ruby, Bill and Betty all school age. Matt, Bob still under school age. The furniture was auctioned the day before. They stayed over night at some neighbors, MacDonalds.
The estate truck took them and their luggage to the train in Beauly. This was their first step of their journey. They arrived in Glasgow about 4 am. This is where they boarded the ship Athenia, for Canada. Athenia was the first ship to be sunk in the 2nd World War. Some of the Elliott clan came from Paisley to see us off. Of course Grannie Elliott. This would be the last time she would see her oldest son. Not a tear did she shed. She was small but oh how strong. Aunt Peggy was there with Margaret MacKenzie as a baby. When Aunt Peggy said the baby was wet, maybe they should go, Grannie just unbuttoned one of her flannelette petticoats and there was dry clothes for the baby. Grannie so dependable.
We all trouped on to the ship. After we were in bed it set sail, anchoring off Ireland to pick up passengers. Their luggage must have been loaded in Glasgow as they came to the ship in small motor boats.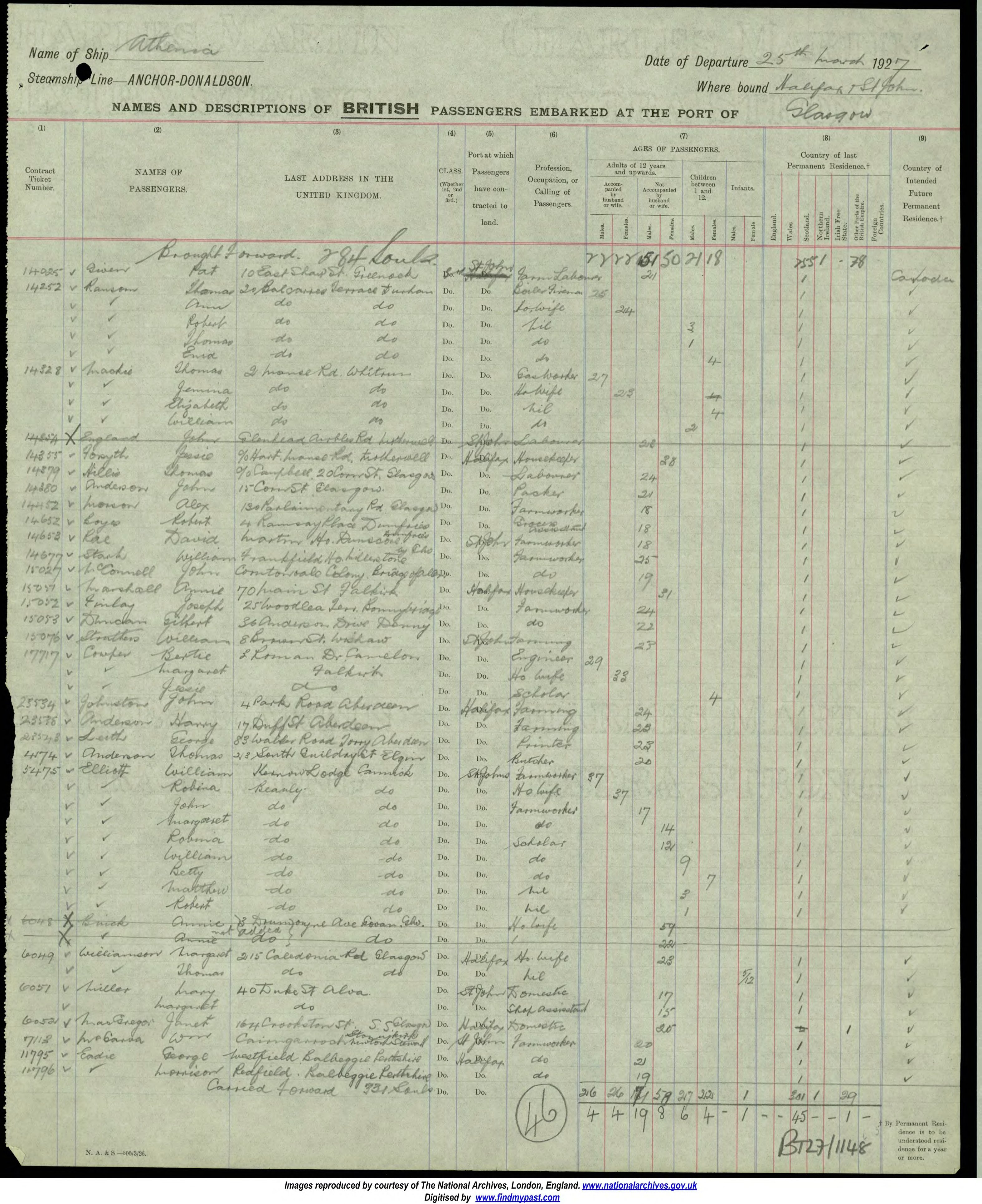 S.S. Athenia passenger manifest
You can read the pages from the Athenia's passenger manifest, documenting the family's voyage, here.
---
Peggy's future husband.
Later that day we were off at last on our journey to Canada. We sighted an iceberg and one night it was so rough one had to hold on to one's plate or it found its way to the other end of the table.
The days passed and first thing we knew we were in Halifax. Canada at last. After customs and red tape we were loaded on an immigrant train where there was a stove at the back of the train that one could cook light meals on. At night the backs of the seats came down and made beds. We had brought a blanket each. Winnipeg was our first stop; here we went to a hostel for 2 days. Back on the train, now we were on our way to Calgary. Arriving in Calgary early in the morning. The sun was shining and I thought it was the most beautiful city. Here we transferred to another train that brought us to Olds. Some church people gave us lunch and the Soldier Settlement had made arrangements for transportation to the farm at Waterside. Just east of the farm the snowdrifts were so deep a tractor had to pull us through. The man on the tractor was Jack Stirton.
Now we were at the farm. The house had 2 bedrooms, a kitchen and living rooms and now 9 people. There was a long table, some chairs, stove and 2 beds. Within days John had a job and at the end of the week I went to work for the Butts who lived just a few miles north. I got $15 a month. From these wages most of the needed things were bought for the house: a dining room table, a couch that could be made into a bed, a boiler to heat water in on the stove. It was in this house that two more babies were born to this family: Grace and Charles, Our Canadians.
No one will ever know how hard it was to get started and to adjust to the ways of the country nor how many tears I shed from loneliness. But all of us have stories to tell of our own lives but none of us will ever know what our parents gave up to give us, their children and our children a chance in this wonderful land, Canada.
I ask a toast to our parents and to their children, The Elliotts.