Elliott Military Service
Several members of the Elliott family volunteered for military service in the First and Second World Wars.
William Elliott (1869-1920)

Elliott family tree
William was the brother of John Elliott (1859-1915, the father of another William whose Gallipoli adventure will be told shortly). As a younger man William served with the King's Own Scottish Borderers. We're not positive, but this service probably took place before 1890 when, at the age of 22, he married Grace Milligan, the younger sister of his brother's wife Margaret. He worked at various jobs such as coal miner and fireclay worker and raised a family of at least 5 children. When World War One broke out he was too old for the infantry so he volunteered for the Army Service Corps (ASC) and they took him in October, 1915, at the age of 46, at a rate of 3 shillings per day (which was three times the daily pay of an infantry private). We don't know much about his service but his shoulder titles, which you can barely make out in this photo, read MT which means he was in Mechanical Transport. We also know (from his medal card) that he was sent over to France on December 6, 1915.
We get another clue about his service from his regimental number: SS/19052. The first S means he worked in the Supply section, while the second S stands for "Special", meaning he worked in a particular field on account of his civilian trade. We're not entirely sure which of his many trades qualified him for the "Special" designation, but in 1915 when he joined the ASC, he simply put down "labourer" as his trade.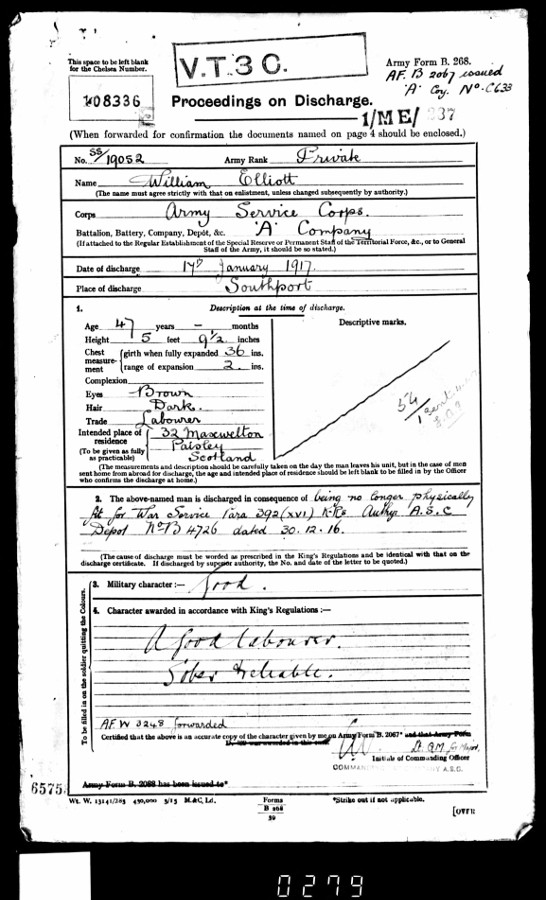 William's discharge papers
His wartime career was brief— after just 16 months he was discharged (on January 17, 1917) for being "no longer physically fit for War Service." His discharge papers indicate, however, that his military character was "good" and further that he was "A good labourer. Sober and reliable." He received the Victory Medal, the British War Medal, the 1914-15 Star, and the Silver War Badge.
After his discharge William went to work at the Paisley threadmill which employed so many of his extended family; he died of tuberculosis three years later at the age of 50. He was buried with military honors in the Paisley Woodside Cemetery. Grace, his widow, lived on another decade and died of bowel cancer in 1931.
Although we don't know much about what William did during the war, the Long, Long Trail website has a fascinating article about the role of the Army Service Corps in WWI.
The following William was this William's nephew.
William Elliott (1890-1949)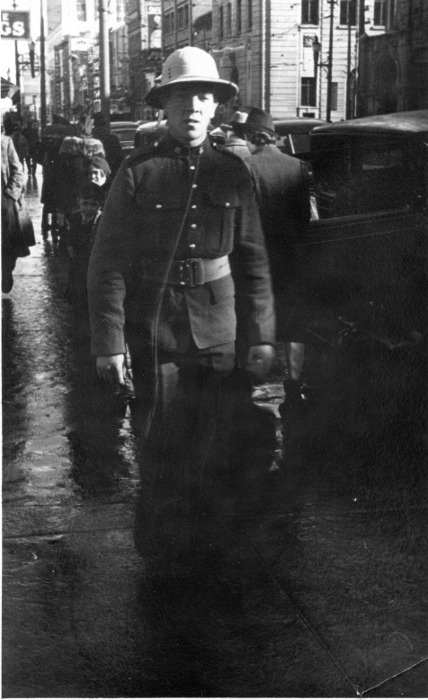 William Elliott in battledress, 1914 or 1915.
The story of this William's World War I service has been moved here.















Frank Elliott (1897-1917)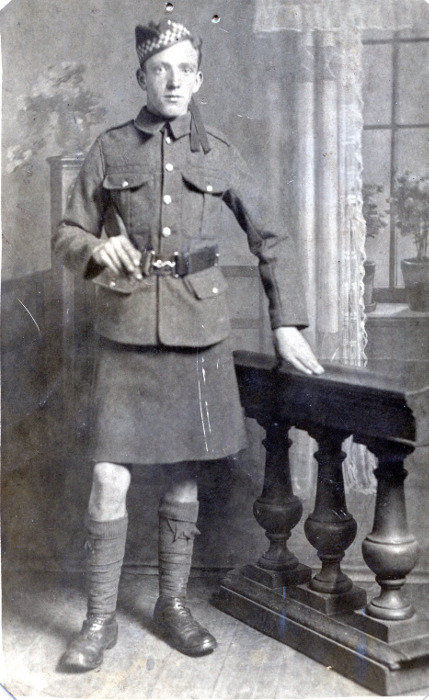 Frank Elliott in Argyll and Sutherland Highlanders uniform, 1914 or 1915.
Frank (Francis Milligan) Elliott was 7 years younger than his brother William, whose wartime story has already been told. When war broke out at the beginning of August, 1914 and William was called up, Frank didn't join immediately— he waited until mid-September and then joined the Argyll and Sutherland Highlanders (A&SH), the same regiment as William. Assuming he didn't lie about his age to the recruiting officer (the Elliott boys had a history of doing that), he was a little over 17 when he joined. We know very little about Frank except for a brief mention his nephew John makes in his memoir:
After we moved from the house, we lived on the top floor of a six-floor apartment building. Father's young brother Uncle Frank used to come Saturdays to carry Mother's baby buggy down the six flights of stairs for her to go shopping. Uncle Frank enlisted in the army although only 17; the last Saturday before going to France he helped Mother as usual, went straight over to France and was killed in the First Battle of the Somme.
Fortunately, Frank's service records survived the fire that consumed those of his brother William when the records office was bombed during WWII, and we have been able to piece together the main elements of his military career, which was somewhat more lengthy than John remembered.
What do these numbers mean? A regiment was composed of an indefinite number of battalions, some of which being Regular and some being Territorial Force. The Territorial battalions had one or more "reserve" battalions attached to them: the first-line battalion was the one to see action, and would be resupplied by men from the second and third-line reserves as the need arose. Hence William's battalion, 1/5 A&SH, was the first line of 5th Battalion. Frank's battalion, the 2/6, was the second-line reserve of 6th Battalion. Frank would have to transfer up to the 1/6 before being shipped over to France.
Whereas William was already a member of 1/5 Battalion A&SH at the start of the War, Frank joined the 2/6 Battalion , which was stationed "at home". He received regimental number 3661. The 2/6 was stationed at Bo'ness, about 50 miles east of Paisley near Edinburgh (and just across the Firth of Forth from Dunfermline, where William was training with the 1/5). William shipped out for Gallipoli in June 1915, and Frank's nearness to Paisley probably meant he was able to come home on leave frequently to help his sister-in-law, which explains five-year-old John's vivid recollection of Frank helping his mother with the baby buggy on Saturdays.
The 2/6 was a reserve battalion and never saw action for the duration of the war. We know nothing of Frank's aspirations or feelings about the war at this point, but one gets the impression he was restless and eager to see action. In February 1916 we see he requested a transfer from the 2/6 Battalion to the 3/6, another reserve unit that never saw battle. This would have been about the time that William returned home from the disastrous Dardanelles campaign, unemployed and despondent, and likely suffering from shell-shock from his ordeal. Then 5 months later, in June 1916, Frank got another transfer, this time to the 1/6 A&SH, which had already been fighting on the Western Front for over a year. He embarked on Friday, June 9 and joined his new unit in the field on July 1, which means that June 3 would have been the last Saturday that John remembered seeing his uncle alive.
"Proficiency Pay" was awarded to a soldier who demonstrated aptitude. A line infantry private received 1 shilling per day according to 1914 British Army pay scales, and "additional proficiency pay is payable if the soldier fulfils certain conditions as to service and qualification: rates 3d or 6d per day, according to proficiency". See longtrail.co.uk.
Pioneers were specialized groups of soldiers who performed hazardous building, digging, and entrenchment tasks, often under fire.
Read more about this administrative change on longtrail.co.uk.
The timing of Frank's arrival on the Western Front was no accident. The Somme Offensive was launched on July 1, and the 1/6 was in the thick of it. We have few details of Frank's participation and can only make inferences based on his pay and medical records. We see in his dossier that he got a 3 penny per day raise for "proficiency" on September 17. On September 22 he was wounded "At Duty" but no details are given and the injury did not require hospitalization. By October he was working with a Pioneer battalion and received another 2 penny per day raise. The Somme Offensive came to an end in November and Frank was still alive, so John's recollection that Frank went straight over and got himself killed is incorrect.
The 1/6's history shows no major actions through the winter of 1916-17. On January 9 we find Frank listed as "sick" and presumably got a day of rest out of it; on January 10 he is "returned to duty". Early in 1917 he received a new regimental number, 251361, on account of the restructuring of the Territorial Force that took place that year. When spring came, 1/6 was involved in the Battle of Vimy (April 9 to 12), the Attack on La Coulotte (April 23), and the Third Battle of the Scarpe (May 3 to 4). We can only assume that Frank was active during many or all of these engagements.
Some of the handwritten annotations in his dossier actually show that he died on May 19, but other records show he wasn't admitted to hospital until May 21, and died that day. It seems likely to infer from this that he was shot on May 19 and failed to have the wound treated since it didn't seem life-threatening. It got infected, and by the time he got to the field hospital it was too late. This reconstruction of events is speculative, but not unlikely.
That is, twelve pounds and ten shillings: about USD $650 in modern currency. See Eric W. Nye, Pounds Sterling to Dollars: Historical Conversion of Currency, accessed Friday, August 11, 2017.
Frank was wounded on May 19: "Gunshot wound buttocks and thigh right" was the terse casualty report from Casualty Clearing Station No.8 in Agnez-lès-Duisans near Arras, France. We can find no record of a battlefield action on that date, but he died, apparently of tetanus, two days later. He had 2 years, 8 months of active service at the time of his death, and received the British War Medal and the Victory Medal. He was 19 years old.
A year after the war ended, Frank's mother (now a widow— her husband had died in April, 1915) received a "war gratuity" of £12 10/- as compensation for her son's service.
Frank is buried, two miles from where he died, in the Duisans British Cemetery near Étrun, France.
See also
Frank's memorial on the Commonwealth War Graves Commission website.
Frank's Find-a-grave memorial page.
World War II
All five of William's sons volunteered for service in the Canadian Army, four during WWII and one just after.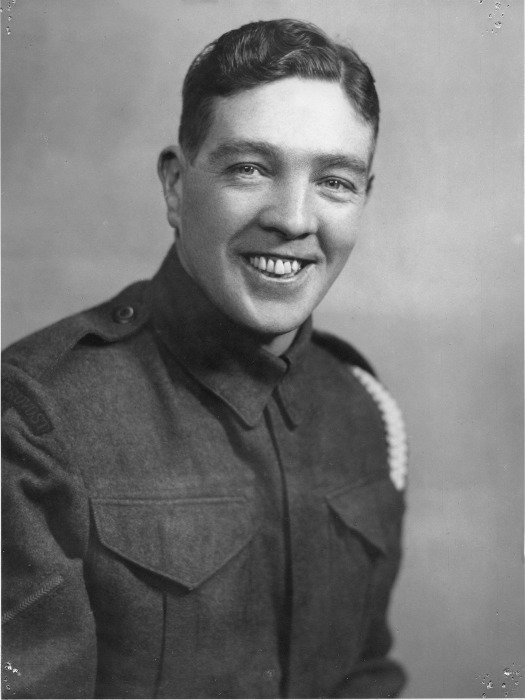 John Elliott, circa 1942.
John, the eldest, had a lifelong fascination with army life mixed with a strong stubborn and insubordinate streak. He joined the Queen's Own Cameron Highlanders in 1924 at the age of 14, lying about his age. He was released from service two years later when his mother arrived at the barracks in Inverness one day with his birth certificate, allowing him to emigrate to Canada with the rest of the family. Later, at the outbreak of WWII, he joined a Canadian infantry regiment, The Calgary Highlanders, but transferred to the Provost Corps shortly after arriving in Britain and spent the early part of the war as a policeman, patrolling the pubs of London and rounding up Canadian Army deserters. His ears were damaged in a bomb blast and he was discharged early. His adventures and difficulties with authority can be read in his long and rambling memoir, which is reproduced here as John's Story.
Bill Elliott, June 1940.
Bill joined the RCASC (Royal Canadian Army Service Corps) in May 1940. Being one of the few recruits who could drive, he was sent overseas immediately and took part in the evacuation of Dunkirk, delivering trucks to the Canadian troops there. He was being considered for an officer's commission but was invalided home early, in April 1944. Bill tells the story best in his own words.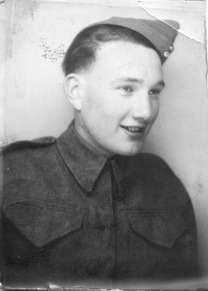 Matt Elliott.
Matt enlisted in about 1942 and was a driver for the Engineers. He hasn't left us with a written record of his exploits, but we know that he took part in the Allied invasion of Italy.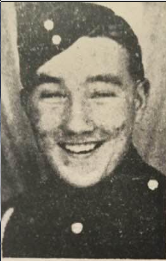 Bob Elliott.
Bob, feeling left out and eager to follow his brothers overseas, volunteered in early 1941, still too young to join but lying about his age. He easily handled added responsibilities and trained intensively with tanks, driving a tank onto Juno Beach in the early hours of D-Day. Later he took part in the Canadian liberation of Belgium and The Netherlands. His fascinating adventures are the subject of The Little Coat: The Bob and Sue Elliott Story by Alan J. Buick. You can also read about it in his own words here as Bob's Story.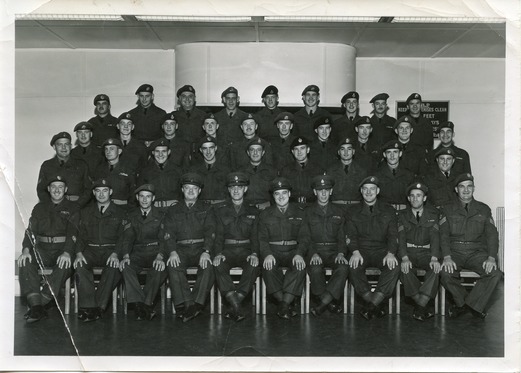 Chuck Elliott, 1952.
Chuck was only 13 when the war ended, but when he was old enough he joined the RCASC and served with the Allied occupation force in post-war Europe. Here we see him in a group photo from October 1952, 3rd row 4th from right.
Timeline of the Elliott brothers in WWII
Date
History
John
Bill
Matt
Bob
1939: September 10
Canada declares war.
1939: September 13
John joins The Calgary Highlanders. Starts training in Calgary.
1940: March
Bill joins the RCASC.
1940: May 26 - June 4
Evacuation of Dunkirk.
John and The Calgary Highlanders move to Camp Shilo, Manitoba.
Bill delivers trucks to the troops at Dunkirk.
1940: August 21 - September 4
John and The Calgary Highlanders travel from Camp Shilo to Greenock, Scotland.
1940: October 1
Kitchen explosion at Guillemont Barracks. John is blown out of bed from the blast.
1940: December 16
John and The Calgary Highlanders move to the Talavera Barracks near Aldershot.
1941: February 11
Bob enlists in the Canadian Army and is sent to Debert, Nova Scotia, for training.
1941: Summer
John transfers to the Canadian Provost Corps.
1941: November 3 - 11
Bob travels from Debert to Greenoch on the Louis Pasteur, then to Aldershot to continue training.
1942: exact date unknown.
John's ear damage makes him a "category man": unfit for field action.
1943: September
Allied invasion of Italy.
1943: Christmas
Bill, Matt, and Bob have leave and meet in Paisley, Scotland to celebrate the holiday with family. John doesn't have leave but joins them anyway.
1944: January
John is arrested on the streets of Paisley for being AWOL. He eventually accepts a reduction in rank and transfer to the Auxiliary Service Corps.
1944: February 23
The Guinness Trust buildings in Chelsea are flattened by German v-bombs.
John and his girlfriend Kathleen, who are living nearby, witness the devastation.
1944: April
Bill breaks his leg playing football, receives a medical discharge and returns to Canada. He marries his sweetheart Esther on June 1.
1944: June 6
D-Day: Invasion of Normandy begins.
Bob drives his tank onto Juno Beach.
1944: July
Matt is fighting with the Canadian Army in Italy.
1944: August
John receives a medical discharge and returns to Canada.
1944: September
John joins the Merchant Marine and returns to London to live with Kathleen.
1944: November
John's wife back home begins divorce proceedings against him.
1944: Christmas
Bob and his tank crew, stationed at Alphen, give Sussie Cretier the famous Little Coat.
1945: February 8
Start of Operation Veritable near Nymegen.
Bob and his crew are on the forefront of the attack.
1945: May 8
Germany surrenders. Japan surrenders on August 15.
1946: February
Bob is repatriated to Canada and receives his discharge on March 12.
1946: March
John's divorce is final. He marries Kathleen on April 6.