Early Days
1910-1919
William Elliott (1890-1949) in 1908
According to the family Bible as well as the Renfrewshire Registry of Births, John was in fact born at 52 Broomlands Street, about 3 kilometres from East Lane. To explain the discrepancy, it seems probable that the family moved to East Lane shortly after John's birth, and that his earliest memories began there. View map of Paisley. View John's family tree.
Margaret Muir Elliott ("Aunt Peggy"), born December 16, 1912.
This may have been Mary Elliott (née Ingram), born in County Fermanagh, Ireland; died January 3, 1914, in Paisley. See the family tree.
It all began on the 8th of March 1910 in Paisley, Scotland, where I was born in East Lane in a company house of J.& P. Coats thread manufacturers, for whom my father worked as a draughting engineer. My sister arrived two years and ten months later, and this event is my earliest recollection; I do not have continuous memories from then but this was firmly fixed in my mind because of the happenings. I was sent out into the garden out of the way and was apparently digging because I found a big fat earthworm which I took into the house to Mrs. Dickie the midwife. She pretended great horror and fear of my find—this memory has never left—then I was informed I had a new sister, which Mrs. Dickie had brought in under her very voluminous cloak. Thus went my first introduction to life. The doctor attending at the time was a Doctor Gibson, the family doctor for some years, whose name returns to this memoir very much later.
I also remember my first wake. My great-grandmother had passed away and I was allowed to attend with all the other males, candles burning at each end of the coffin with the male mourners sitting around to keep the spirits away. If I remember correctly there were liquid spirits there also!
William's unit (1/5 Argyll & Sutherland Highlanders) was mobilized the day after war was declared, on August 6, 1914. Therefore the Saltcoats vacation John refers to would have taken place in July, 1914.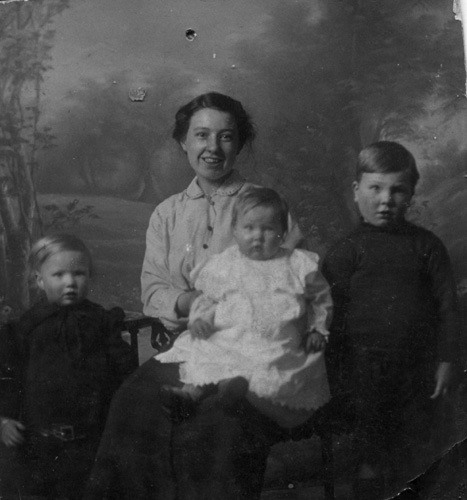 Robina Elliott (née Woods) (1890-1963) in 1915 with Peggy, Ruby, and John.
While William was training and before his departure for the Dardanelles, his second daughter Robina Kean Elliott ("Aunt Ruby") was born, on October 8, 1914. Ruby's grandson is the award-winning Canadian poet Bruce Hunter.
John's recollections here are not entirely accurate. Read a more detailed discussion of William's military service.
My next memories are about the start of World War I, from which time they have been continuous. We had just returned from our holidays on the coast at Saltcoats; when the house door was opened there was a long envelope lying on the door mat where it had dropped from the letterbox slit in the door. This was a notice for my father to report for active duty with the army; he had been a member of the old Territorials, "Militia," and of course they were called first. Great Britain and Germany were at war. My father was posted to the county regiment, The Fifth Argyll and Sutherland Highlanders. Naturally these happenings caused considerable consternation in the family and as a result were fixed firmly in my mind.
Together with my mother I visited my father at various camps, notably Greenock and Dunfermlin. I remember when my father shipped out and he went to Egypt for a time, then to the first landing at the Dardanelles where he was wounded. After that he was discharged with poor prospects for a continued life.
While my father was away I used to go with my mother to the factory counting house every Friday where she received an envelope with my father's pay, still paid by the company. One week when she went she received the envelope with only a single penny as a make-weight: my father was missing in action, therefore his pay was stopped and we had to leave the company house.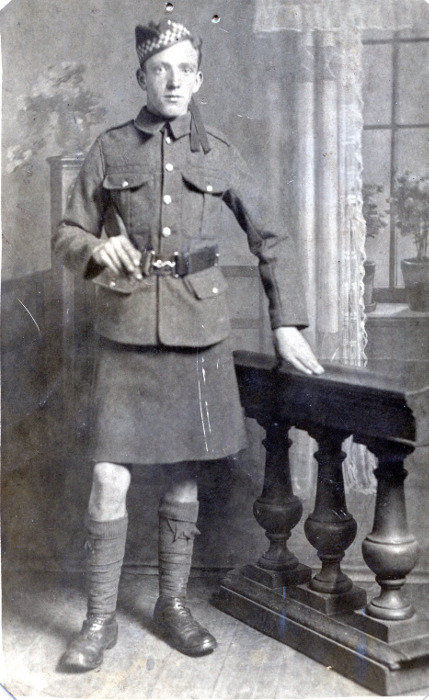 Francis M. Elliott (1897-1917)
Again, John's childhood memories of his Uncle Frank are slightly off. Read more about Frank's military service.
After we moved from the house, we lived on the top floor of a six-floor apartment building. Father's young brother Uncle Frank used to come Saturdays to carry Mother's baby buggy down the six flights of stairs for her to go shopping. Uncle Frank enlisted in the army although only 17; the last Saturday before going to France he helped Mother as usual, went straight over to France and was killed in the First Battle of the Somme.
When my father was wounded he was buried alive and reported missing in action; this was the reason we had to move out of the company house. He later turned up in hospital in Egypt.
We don't know the exact date of William's return home, but it was prior to November 11, because he acted as witness at his sister Mary's wedding on that date in Glasgow. His discharge was dated December 31, 1915.
On being repatriated to Scotland and discharged from the army with poor prospects for continued life, he was advised to find employment in the open air. Not long after his discharge our whole family were walking down the street when Mother noticed a man across the street looking at us. When Father turned to look, the man across the street rushed over exclaiming, "My God Elliott, I thought you were dead." This had been my father's company major who had seen him being carried off for dead. They had covered my father's face with a tropical pith helmet, evidently belonging to another soldier, as the regimental number was not my father's (2061). I had the helmet for years and played soldier with it.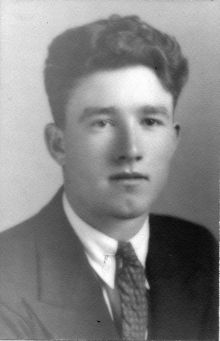 William Elliott (1917-2013) in about 1937
John's brother William ("Uncle Bill") was born in the nearby village of Uplawmoor (or "Up-la-Moor") on May 2, 1917, so these recollections are set in the winter and spring of 1916-1917. Read Bill Elliott's memoir.
Denied the occupation for which he had spent many years in university, my father became very morose and discouraged with education, which I found out to my sorrow some years later. He eventually got a job as a gamekeeper about five miles from Paisley near the Peasweep Inn at a place called Loch Libow. Our journey to our new home was an ordeal.
Our furniture was loaded on three high-wheeled farm carts. My father travelled with them, while my mother and sisters—two by this time, one a baby—travelled by train to Neilston, and from there by taxi to our new home. We couldn't get right to the cottage and were unloaded about a hundred yards from it. The driver lifted my oldest sister out of the cab and set her down on the snow, and she couldn't reach the ground with her feet.
We had had a lot of snow that winter (1917) and this was just after a storm.
We managed to get down to the cottage which was also used as a meeting place for the local Fox Hunt. It was empty of course, except for a table, chairs and a carpet on the floor. Mother had food with her but no cooking utensils. We got a fire going and I helped mother drag the table out of the meeting room in front of the fire. We turned it upside-down and laid half the carpet on it, then placed my two sisters on this and tucked them in with the other half of the carpet. We were in somewhat of a pickle but fortunately, a shepherd returning across the moors saw our smoke and stopped in. He promptly returned to his farm and sent his nephew back with milk, a frying pan and a tea kettle so we were somewhat better off.
My father arrived about midnight with one cart. The rest of our furniture was stuck or buried in snowdrifts; some items, including Mother's best china, were not found for two weeks.
This was country for fox hunting, a colourful and exciting sport. It was a great sight to see the pack of hounds on the scent and the riders sailing over fences and walls and across fields in full chase.
The hunt used to meet, on occasion, at our cottage, where there was the aforementioned room for their use. In the front yard was a mounting block with a few steps at one end: the grooms would lead the horse alongside the block from which the ladies mounted, they of course all wearing riding habits and riding sidesaddle. The gentlemen riders all wore red jackets called pinks, white britches and black caps making the whole show very colourful. When all were mounted servants passed round drinks of wine (or what have you!), the stirrup cup as it was called; meantime a pack of fox hounds, up to twenty or so, were milling around but restrained by one rider called the whipper-in who carried a long straight horn. At his signal the hounds moved off; as soon as they picked up the scent they were off baying, followed by the whipper-in blowing his horn: tally ho, tally ho, the chase was on. All the riders were in close pursuit because each wanted to be first in to the kill. When the hounds ran down a fox and killed it, the whipper-in was there to restrain the dogs. The fox's tail—called the brush—was cut off and presented to the first rider to arrive at the kill, who would daub his face with the bloody stump of the tail. The brush was generally presented to the first lady to arrive at the kill.
The foxes were nocturnal animals and they used to create havoc in chicken pens and among farmyard poultry. They, the foxes, used to live in underground burrows or dens. On the day before a hunt was due to take place my father and other gamekeepers were notified and that night they would go out and block the entrances to the dens after the foxes had started on their nightly predations.
The foxes were wily creatures and they often gave the hounds the slip and got away. I encountered the frustrated hounds on one occasion. I used to go to school in a neighboring village called Up-la-Moor, which was three miles across the moors through fields and woods. On the way home one afternoon I was suddenly surrounded by the hounds who had evidently lost the scent of the fox they were chasing; there I was with my hands in the air completely surrounded by the pack of hounds. I was sure their tongues were three feet long, and I was petrified. Fortunately the whipper-in rode up and called the pack off.
On the adjoining moors there was quite a lot of wet ground, and in some places deep pools of water—the result of cutting peat for fuel. Occasionally one of the many grazing sheep would fall into one of these deep pools and their long heavy fleece would cause death by drowning. If the shepherd found one just recently drowned it was the custom to bleed it out as much as possible then cure the meat in salt brine. It was fit for human consumption although a bit more red in colour than conventionally butchered meat. This salt-cured meat was called braxy, which reminds me of a humorous story.
A young lad became old enough to start working away from home so his father found him a job on a neighboring farm. Two weeks went past when the boy returned home saying he was not going back to his job. The boy's father said, "But you must go back to work, there is the agreement," to which the boy replied, "I'm not going back. The first week a sheep was drowned and I was sent for a sack of salt to make braxy; the second week a pig died and I had to go for more salt to make braxy which we ate; last night the old lady died. No! I'm not going back!!"
John's sister Elizabeth Kean Woods Elliott ("Aunt Betty") was born here on May 19, 1919.
From Loch Libow, I moved with my family in 1918 to the east coast of Scotland to the county of Fifeshire on a large estate owned by Lord Dalhousie. The estate was known as Panmuir, at the centre of which was Panmuir House, a tremendous modern castle-like structure set in beautiful grounds. Panmuir House was set back about a mile from the road and was approached through huge iron gates about twenty feet tall flanked on either side by miniature castle-like houses, in one of which we lived. In the other lived the estate painter. It was my mother's duty to open the gates for carriages and cars going to and fro' the big house. On my visit to Scotland and my old haunts in 1978 I was grieved to find the big house had been demolished, although the gates and flanking houses still existed and were occupied. I had a short visit with the tenant of the house I lived in so many years ago.
We lived at Panmuir at the end of World War I and at the time of the 'flu epidemic I, a boy of eight years, was the only member of the family not ill. I remember trudging up and down stairs getting instructions from my parents on how to attend to their wants.
Panmuir estate and house were quite close to Carnoustie. I attended school in the village of Muirdrum, only a mile or so from Carnoustie, but in those days it seemed a long way as I recall walking with my sister down to the links (beach) where all the school children around were collected and presented with medallions celebrating the end of World War I. On my last visit I was amazed to find how close the two places were and not at all as remembered of those long-ago days.
The country surrounding Panmuir was good farming country with scattered woodlots and hedgerows providing ideal habitat for small game and good sport for hunters.
In the wintertime, each day on my way to school at Muirdrum, it was my duty to feed the pheasants at several locations where there would be small stacks of straw and I would scatter grain around the straw. In the spring we would set up traps, like a large bird cage with a little tunnel of wire running into the centre from the outer side of the cage. The birds would follow the grain in through the tunnel but when they tried to get out they would follow the inside of the cage wall over the tunnel and of course were trapped. We would remove the pheasants to large chicken runs and when they started to lay eggs in the spring these eggs were collected, placed in incubators, hatched and raised to be released for the next hunting season.
When the hunting season opened in the fall, I was allowed to accompany as a beater. A long line would be formed with a gun (hunter), then a beater, who would be a boy or young lad or a game keeper, then another gun, then a beater; quite a long line depending on the number of hunters or sportsmen involved. We beaters were paid a small wage and our lunch and each equipped with a leather bag on our back to carry game. Once formed up, on a signal we all moved off in line, across stubble fields and turnips, through woods and hedgerows, rattling sticks etc. to flush out game which were pheasants, partridges, woodcocks, rabbits, hares and in some locations roe deer. These latter were a very small deer not much bigger than a large jack rabbit; the little bucks had a small two-pointed antler about four inches long. These hunts took place at intervals throughout the winter hunting season.
This was especially good country for potatoes, every farm growing acres of them. We children did not get summer holidays as such, but half the holiday period in spring to plant the potatoes, and the other half we got at harvest time.
The digger they used was two-wheeled with five or six long arms with fingers at the end revolving at right angles to the wheels. They scattered the potatoes a considerable distance. We children were allotted a measured distance of drill, half or a whole stance according to our ability. We did have a few labourers, mostly women, who came over from Ireland in potato season.