Aunty Mary, who died over 30 years ago, is the primary source for much of my earliest Coulson family history. She was born in Wyoming but she must have spent a lot of time listening to her folks, because she knew quite a lot about her grandparents and great-grandparents back in Yorkshire. It gives me great pleasure to track down her stories and see how true they are. I've become Aunty Mary's posthumous fact-checker.
She knew a lot about her father's mother, Mary Coulson. According to Aunty Mary, her grandmother Mary's first two children– George Lindley Coulson and Emily Ann Coulson– were born out of wedlock to Mary and a man named Jim Barlow. But instead of marrying Barlow she went and married Tom Henson. By that time, though, George and Emily had already been adopted by their maternal grandfather, William Coulson (who later clobbered a man with a shovel and ran off to Australia) and that is why my great-grandfather George was surnamed Coulson, not Barlow or Henson. It would be nice to try to validate some of these facts, wouldn't it?
First thing I found was George and Emily's baptismal record…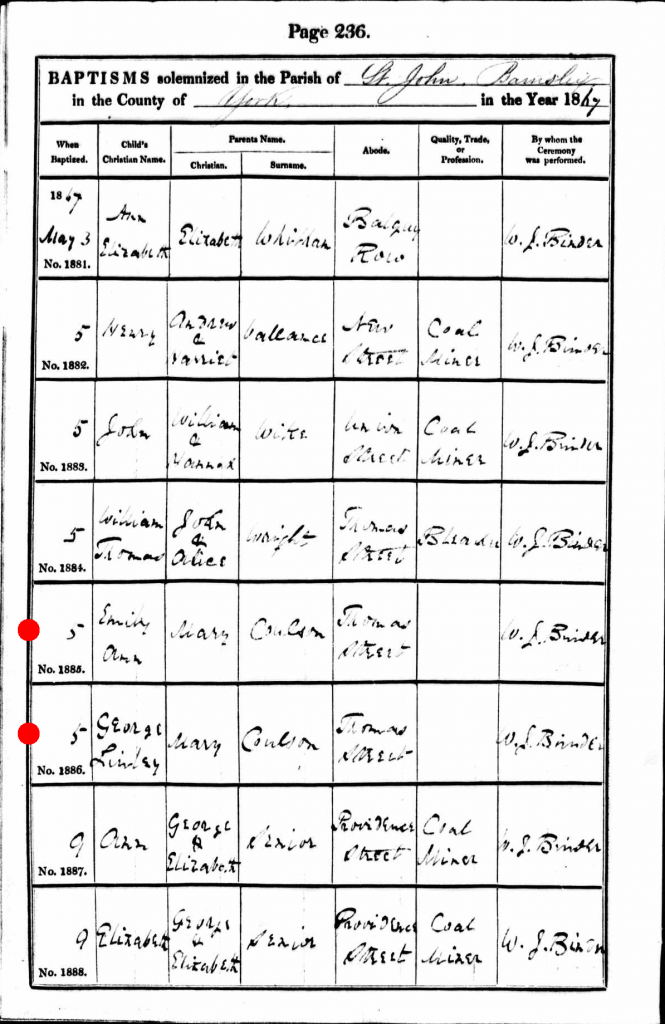 Emily and George were both baptized on May 5, 1867. I have found other documents showing that Emily was in fact born in December 1866, and that George was born on December 10, 1864. I can't imagine why Mary took so long getting George baptized, but the thing I wanted to point out about the baptismal register is that only Mary's name appears; there is no father.
Later I found the marriage registration for Mary Coulson and Tom Henson– they were married later that same year, 1867. By the time of the 1871 Census, Mary, Tom, George, and Emily are one big happy family… but note that 6-year-old George is still a Coulson (or here, "Colson"). Apparently Tom hasn't adopted him yet (and, for some reason, he never will… which is why we're named Coulson, not Henson).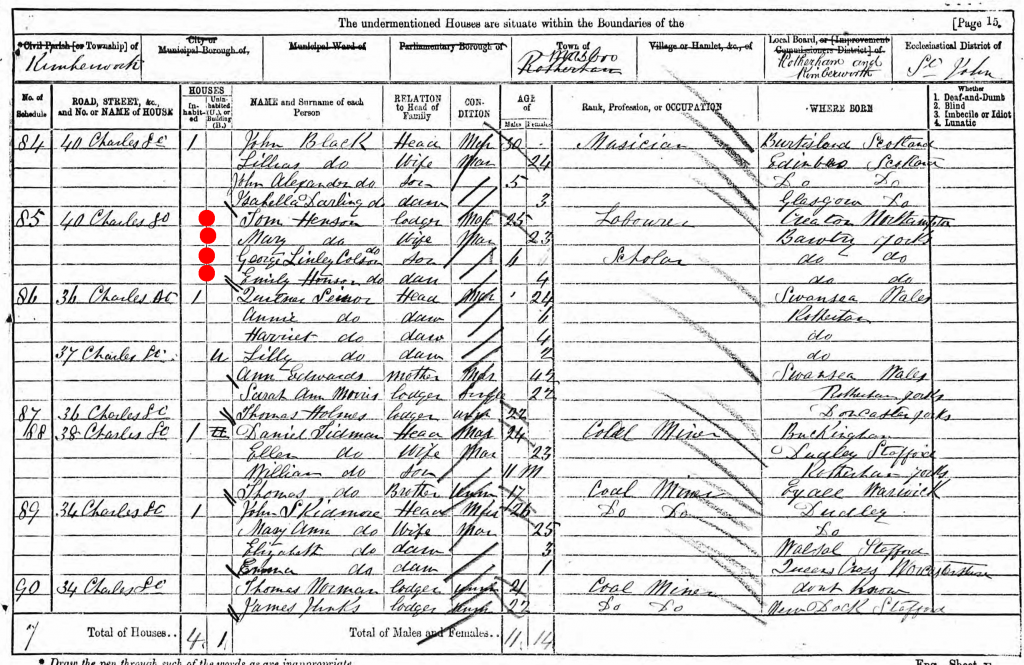 Also note that Tom, Mary, and the children are living as lodgers in the home of John Black, a musician… There's another one of Aunty Mary's stories lying in plain sight there, but that'll have to wait for another day.
Well, we have accounted for Tom Henson. So far, Aunty Mary's story checks out. What happens if we go looking in the opposite direction?
In 1861, I found a 13-year-old Mary Coulson living with her 74-year-old grandfather, George Mitchell, a grocer. Mary's occupation is "General Servant". Their address is 38 New Street in Barnsley, Yorkshire.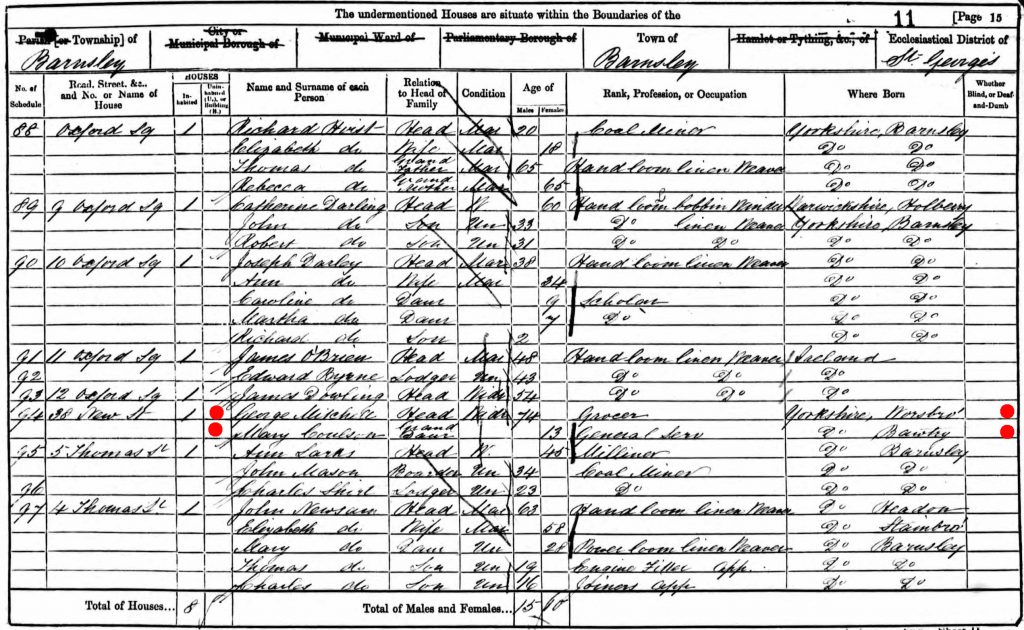 I can't be 100% certain that this is my great-great-grandmother because "Mitchell" is a name I never heard about from Aunty Mary, and I never heard of Mary living with her grandfather. However, this girl's parents are obviously absent, and that fits with Aunty Mary's story of Mary's father running off to Australia. Plus, this Mary's age is exactly 10 years younger than the young woman in the 1871 Census, and the birthplace of the two Marys (Bawtry, Yorkshire) is a match, too. And, of course, her name lines up with what I think I know.
Well, here's another piece of evidence, which seals it for me. This is also from the 1861 Census: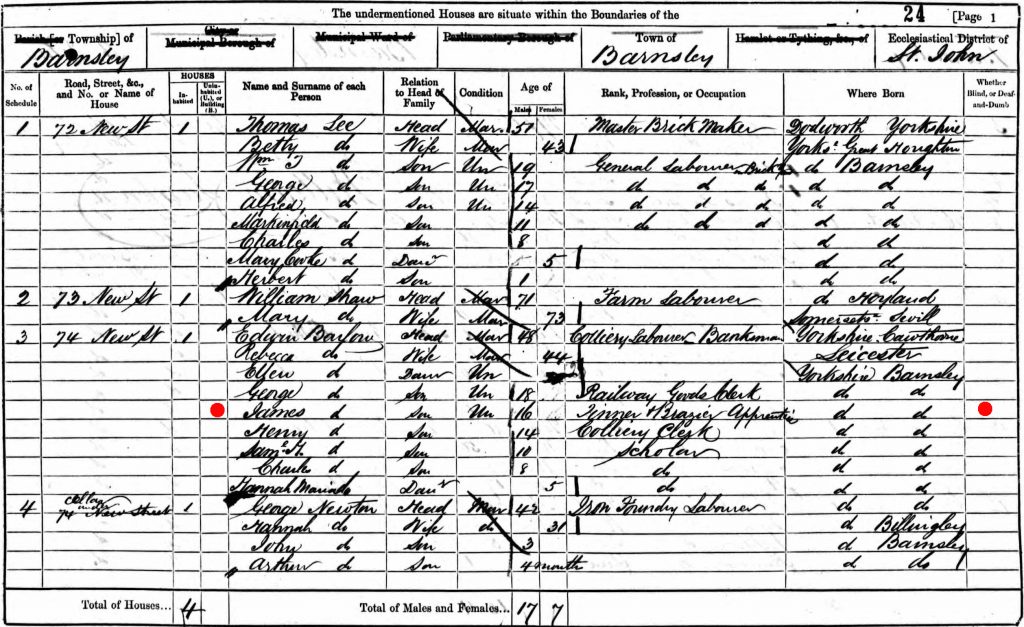 Here we have a 16-year-old "Tinner & Brazier Apprentice" named James Barlow, living with his parents, Edwin and Rebecca, and several brothers and sisters. Hm, that's interesting. Didn't Aunty Mary say that Jim Barlow was the father of Mary's first two children?
Check out James Barlow's address: 74 New Street, Barnsley, Yorkshire.
James and Mary were practically neighbors.
To give you an idea of how close they lived, here's a modern photo of New Street in Barnsley taken from Google Streetview (image copyright Google, retrieved on Nov. 25 2017):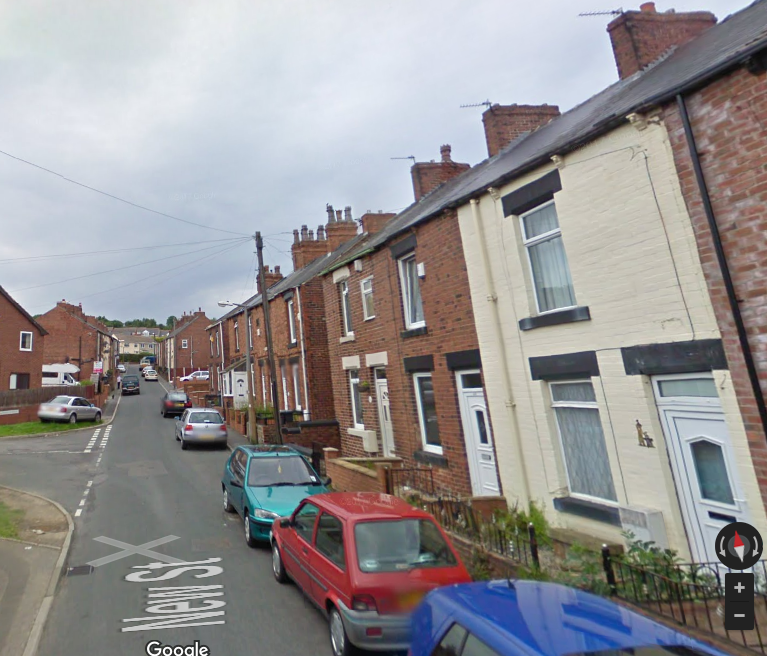 Mary's house is the white one on the right. James' house is a little before the end of the street, also on the right.
Obviously this is highly conjectural. I have no documentation regarding the true parentage of George Lindley Coulson and his sister Emily. I have no reason to link the census page recording Edwin Barlow's family with the one recording George Mitchell and his grand-daughter. All I have is the word of Aunty Mary, who has been dead for a third of a century.
Well, that's good enough for me. I think James and Mary met in the course of their young working-class lives on the streets of Barnsley. Mary's grandfather being a grocer, perhaps the Barlows were customers of his. Mary was only 13 in 1861, but by the time her son George was born she would have been 16, and James would have been 19. A perfect age to start a family. But for some reason things didn't work out for them, and they didn't get married… I have traced James through the United Kingdom censuses up into the early part of the 20th century, and I know that he eventually married a woman named Angelica and had many children by her. Mary, as we have seen, went on to marry Tom Henson and the whole family– including George Lindley, Emily, and Tom and Mary's own natural children– all emigrated to North America around 1888.
Funny how a tiny scrap of scurrilous family gossip can lead you to an important find. Without these stories I would have no clue about the true identity of my great-great-grandfather Jim Barlow. I can't speculate much on the relationship between Mary, Jim, and Tom, but what I can say is that Aunty Mary's facts are checking out.