This is a story of four young people and how the paths of their lives crossed and re-crossed over the years.
When an unpopular emperor named Peter was overthrown in a palace coup in 1762, the conspirators propped up his unassuming German wife Sophie (who called herself Yekaterina) as temporary regent, until their son could assume the throne. She proved feistier than anyone could have imagined, though, and soon got herself crowned as empress, and went on to have a long and glorious career as Catherine the Great of Russia.
Something that frustrated Catherine was how backwards Russia was, agriculturally. So one of the first things she did, in the mid-1760's, was to send letters back to her homeland inviting her industrious German countrymen to come to Russia, particularly the Volga River basin, to establish farms using modern agricultural practices and help to make Russia into the prosperous nation she wanted it to be. A great many Germans answered the call. They were given special privileges– they did not have to assimilate into Russian society, they were (at first) exempt from military service, and they were allowed to keep their native religion (they were mostly Lutherans, Catholics, and Mennonites). These immigrants became the people who are known to history as the Volga Germans.
The Volga Germans thrived, but in the latter part of the 19th century many began emigrating to North America. Their main destinations were Kansas, Nebraska, North and South Dakota, the Pacific Northwest, and Canada. They were the lucky ones. As the 20th century progressed the German population of Russia began to be seen with increasing suspicion, and by the time of Stalin, the Volga Germans were being subjected to a policy of deportation and ethnic cleansing that could be characterized as a genocide.
Marie
One such fortunate family of Volga Germans boarded the SS Professor Woermann in Bremen on March 15, 1907. After a 26-day voyage, they stepped off onto the pier on Pelican Island, which served as the offshore immigrant processing and quarantine station for the port of Galveston, Texas. There was 60-year-old Michael Reuber and his 53-year-old wife Elizabeth (neé Mueller), along with their teenage and adult children. Michael's son Michael Jr., 24, was accompanied by his wife Amalie (or Amelia or Mollie) and their 9-month-old daughter Pauline.
The ship's manifest hints at some of the trouble the family endured as soon as they set foot on American soil. The two youngest sons, Alexander (15) and August (12), are labeled "DEBARRED". Column 21 gives the reason: the two boys suffered from Trachoma, a highly-contagious eye infection that can result in blindness, the scourge of immigrants in those days. In the days before antibiotics, the treatment for trachoma was the topical application of copper sulfate that was worked into the inside of the patient's eyelid using a stiff metal brush. Newly-arrived immigrants were free to refuse this painful treatment, in which case they would simply be sent back where they came from– which is just what happened to poor Alex and August. They were sent back to Bremen by themselves, presumably at the shipping company's expense. Imagine the consternation and uncertainty the parents felt, to have their two youngest children suddenly taken away from them at such an unsettled time!
The rest of the family had no choice but to press ahead with their plans. Their stated destination (column 16) was Michael Sr.'s cousin, Friedrich Streck of Russell, Kansas.  The family made their way from Galveston to Kansas and started farming in the vicinity of Russell, about 180 miles west of Topeka, where there was already quite a sizeable community of Volga Germans.
What happened to Alex and August? Evidently they spent two months in Bremen, on their own or perhaps in the care of relatives, and they eventually acquired steerage tickets aboard the SS Rhein that arrived at the Port of Baltimore on August 3, 1907. What's interesting is that Alex inflated his age from 15 to 18, probably because it was against the rules for unaccompanied minors to immigrate. Fortunately they met with no resistance from the immigration authorities this time. What an adventure those boys had that summer, on their own on the high seas! They were eventually reunited with their parents in Kansas, and I know that both Alex and August lived long lives in the U.S.A. and have numerous descendants.
Michael Jr. and Mollie rented land from a local farmer named Robert Kaps, and over the next 13 years they brought up a large family– Pauline (who had been born in Russia), Henry, Marie, Lizzie, Alexander, and August (the last two no doubt named after their globe-trotting uncles). There was another son, Conrad, who appears in the 1926 census, but I think he was born later, and I'm afraid he may not have survived, as I can find no further record of him.
It's the second daughter, Marie Theresa Reuber (born 1911), who is the focus of this story.
Michael Jr. had some trouble with the law– he operated a still and sold moonshine to his neighbors, and he got caught in a dramatic raid that generated some eye-catching newspaper headlines. He decided that he needed to get out of Kansas in a hurry. In April, 1921, he gathered his family together and headed for Canada, and his farm was duly seized by the local sheriff to cover his debts. According to the sale notice in the local newspaper, Michael left behind 17 horses, 28 head of cattle, 3 hogs, and a crop of wheat planted and growing in the field, along with all kinds of vehicles, tools, and household goods. Several hundred people attended the auction, which lasted all day. Refreshments were served.
One can only guess at the difficulties the family underwent in the course of their flight from Kansas to the Canadian border! It's about a thousand miles as the crow flies, and the road crosses some pretty rugged terrain, as I know, since I have been over that route several times researching other branches of my family tree. I have no knowledge of the Reubers' mode of transport, although train from Kansas City across Wyoming and Montana seems likely; the port of Coutts, Alberta/Sweetgrass, Montana saw a lot of immigrant traffic in those days. In any case, in 1921 the Reubers wound up in Coaldale, one of the coal mining towns outside of Lethbridge, Alberta, when Marie would have been 10 years old.
What happened next? That is best told in Marie's own words. She wrote the following brief history of the family in 1976 for a local history project, omitting, understandably, any mention of the hurried flight from Kansas.
MIKE REUBERS FAMILY — by Marie Valentini
   My dad and mother with all their children, Henry, Marie, Elizabeth, Alex and August, came from Coaldale to a farm four miles west of Monarch in the spring of 1923. The following year, 1924, we moved to a farm just northwest of Kipp. Here we planted trees to improve the place. We children all attended the Fort Kipp School. While we were there, we enjoyed the social activities, especially the dances and the many friends we made, (some never to be forgotten).
   In the spring of 1929 my dad decided to give up irrigation for dry land farming at Bow Island. We packed up and left with all our horses, cows, pigs and chickens. On March 29, 1929, we said good-bye to all our friends in the Kipp and Monarch area.
From Sons of Wind and Soil (page 335), published by the Nobleford, Monarch History Book Club, 1976, and archived by the University of Calgary.
One family that was prominent in the Monarch area back then was the Alexanders, and the three Alexander boys– Alvin, Gus, and Rudy– would have gone to school with Marie. Alvin, I am sure, is one of the "never to be forgotten" friends that Marie wistfully remembered in 1976.
Alvin
This part of the story starts in 1909 with the birth of Alvin Paul Alexander in Granum, Alberta. His parents were Jacob Alexander, a German immigrant from Bukovina (currently within the borders of modern-day Romania, although at that time it was part of the Austrian Empire), and Ottilie Netzer. Ottilie was also of German descent, and was born on board an immigrant ship en route to America. Her family settled in the Dakotas. Jacob and Ottilie were married near Bismarck, North Dakota in 1905, and after an unsuccessful stint at farming there they moved to Granum in southern Alberta where they started their family. There Jacob, who was a skilled builder and spoke several languages, built homes for the immigrants streaming into the region. Alvin was their first son who would survive into adulthood.
After Alvin's birth, the family moved to the nearby town of Monarch, where Jacob (or "Pop Alexander", as he came to be affectionately known by the locals) eventually built and was proprietor of a service station. Meanwhile Ottilie ("Ma Alexander") ran a boarding house.
I have no documentary evidence to support this, but according to the lore on my side of the family, Alvin and Marie were high school sweethearts. The trouble was, they were both very young, and Marie was two years younger. Ma Alexander, who was a great believer in the value of education, had her sights set on Alvin going to university, and romantic entanglements were out of the question. Family lore says that Ma put the kibosh on Alvin's high school romance. The whole thing seemed doomed anyway, because as Marie's testimony above states, her family left the Monarch area in March of 1929, and moved to Bow Island… not impossibly far, but far nonetheless. Alvin graduated from high school two months later, and that fall he was packed off to university in Edmonton, which was very, very far.
While he was away, Marie got married to a handsome young Italian immigrant.
Marcello
Marcello Valentini was born in 1909 in Ville del Monte, a tiny comune perched high above the shores of the Lago di Garda (Lake Benacus), an enormous body of water in northern Italy that had seen major battles going back to the days of the Roman Empire.
Marcello's father Giuseppe went off to North America looking for work, and found it in the little Alberta town of Maleb/Conquerville, a locality that no longer exists. From there he sent back money for Marcello's passage. Eighteen-year-old Marcello bade farewell to his mother Libera and crossed the mountain to the ancient city of Trent, where he obtained his passport on September 24, 1927, and then made his way to Cherbourg on the English Channel (a journey of almost a thousand miles) where he boarded the SS Empress of Scotland on October 15. It was a brief voyage across the Atlantic, and he arrived in Quebec City (with $100 in his pocket) on October 22, whence he made his way to Alberta. This is the information I have been able to glean from his Canadian immigration record.
I have no further information about his father Giuseppe, but Marcello settled in Redcliff, a mining community northwest of Medicine Hat, Alberta, and there he worked in the Ajax coal mine until he retired. Redcliff is not far from Bow Island where Marie's family settled, and somehow Marcello met Marie, and they were married in 1931.
Annie
Alvin, meanwhile, returned to Monarch in 1933, having earned his Bachelor of Science degree in Electrical Engineering from the University of Alberta. Perhaps he already knew that Marie had married someone else, or perhaps he just learned of it.
There wasn't much work for electrical engineers in those parts back then, it being the Great Depression and all, so Alvin worked around Pop's service station. He was handy with tools and fixed up a broken down Model T that a farmer had given to Pop in payment of a debt. With that start Alvin gradually built up a small trucking empire, hauling gravel, livestock, barrels of gasoline, etc. His friends made fun of him for having wasted so much time at the university, and here he was working as a chauffeur for hogs and cattle.
Meanwhile Ma Alexander was busy with plans for Alvin's future happiness. A bright young schoolteacher had come to Monarch to teach at the Fort Kipp school, and she was staying at the Alexanders' boarding house, so Ma got to know her quite well. Her name was Annie Bublick, and her parents were shopkeepers in the nearby coal-mining towns of Coalhurst, Commerce, and Diamond City. (I have been to Diamond City, and I'm afraid the name is slightly more grand than the actuality).
The Bublicks originated in the Ukrainian-speaking part of Austrian Galicia (today part of Poland), but Annie's parents had learned quite early that Ukrainians were looked down on by the Anglo-German population of southern Alberta, and so they changed their name to sound less Slavic (the original family name was Bubniak) and they raised their children to blend in with the dominant culture. Unfortunately, they passed on very little consciousness of their Carpatho-Rusyn heritage to the next generation.
Anyway, Ma thought very highly of schoolteachers, Slavic or no, and so Annie and Alvin were married in July of 1939.
(Annie, by the way, was my grandmother's sister, so that's where I fit into this story, in case you were wondering.)
Alvin and Anne lived happily ever after, and spent most of their lives in Vancouver, where Alvin finally was able to work as an engineer. Annie gave up teaching to raise their daughter.
Marie and Marcello raised their family in Redcliff, and from all the evidence I have found in the newspapers, they lived happy and fulfilling lives, too.
Life, inexorably, goes on. Marcello died in 1983. Annie died in 1989. Through some twist of fate, Alvin and Marie, now retired, found each other again (I don't know how), and they finally got married in December, 1990. The high school sweethearts lived out their sunset years quite happily, I'm told. Alvin died in 1999, and Marie lived on until 2003.
The Ashes
I wish I could leave it there, but there is a sad and unfinished colophon to the story.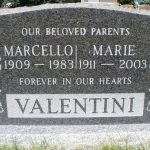 When Marie died in 2003, she was interred in the Redcliff Cemetery next to Marcello. It seems fitting that she be laid to rest alongside the man she shared so many decades with.
It was Alvin's wish that he be cremated and interred in a small plot in the Ocean View Cemetery in Burnaby, B.C., alongside Annie, and Annie's brother and sister, with whom Alvin was very close. Here's a photo of the plot. It's a perfect square, missing only the hole for Alvin's remains. Alvin helped to pay for this plot many years ago, and made it well known to various members of the family that this was where he wanted to spend eternity.
Unfortunately, Alvin's ashes are missing. Marie, for reasons of her own, would not give them to Alvin's family, and at this point, some twenty years later, nobody has contact with Marie's family anymore.
So this is my motive behind placing all this research into the Reuber and Valentini families here on my blog: I am hoping that someday, a descendant of Marcello and Marie Valentini will stumble across this post as they are doing their own research into their family tree. My message to them is this:
Do you have, by any chance, an old cremation urn in a closet or in the attic that you don't know what to do with? If so, please contact me— I think I know where it belongs.