I Go to Sea!
1944-1947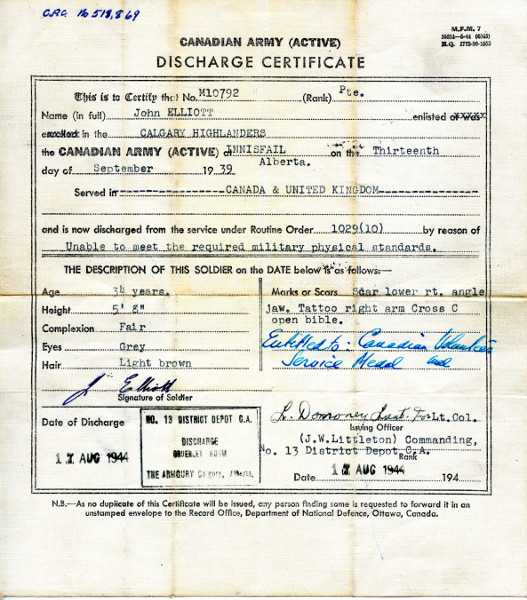 John's discharge certificate
John met with his wife Mary once during this brief trip home, and informed her he was in love with another woman back in London— a fact which she had already guessed from his letters. Mary got a lawyer and started divorce proceedings shortly after this.
Back in Calgary , I was granted thirty days leave pending discharge. I went to work in Burns packing plant where I was offered permanent work on discharge from the Army (on 17 August 1944), but I did not like the idea of punching a time clock for the rest of my life. I was very restless and went to visit some friends at Milden, Saskatchewan, where I ran the combine and helped in the harvest. After harvest I moved on, this time to Halifax where I joined the merchant navy pool. There I qualified for my seaman's papers. While waiting for a ship I worked at stevedoring and had to take a gunnery course at H.M.S. Stadacona where I was trained to operate an Orlican anti-aircraft gun; most merchant ships carried light armament.
Soon I was assigned together with a colleague to the S.S. Elmpark, a ship on the Atlantic run, and in Halifax to take on cargo. I went on board and signed up, and on the way aft to quarters was accosted by a seaman who was the seaman's union shop steward. He demanded to know if I and the other chap were union men, and when told that we did not belong to any union he said we had to join. I refused, saying I had just served five years fighting dictatorship, and that he was not going to tell me what to do. My first run-in with unions.
Next thing I knew, the ship pulled away from dock and dropped anchor in the bay. She couldn't sail with non-union men aboard, and in order to prevent further trouble the captain advised me to join the union. I paid the dues and the ship returned to the dock to load up. She took on a load of wheat, some huge rolls of newsprint paper atween decks and a deck cargo of lumber and some crated planes. Then she lay off in the roadstead while the rest of our convoy assembled, some of which consisted of ships from American ports. We left Canada in a convoy of a hundred and forty-nine ships, with an aircraft carrier in the middle and some corvets on our flanks. It was a great sight in day-time: all the ships steaming along in their allotted positions. At night not a thing could be seen as we ran without lights. We were also under radio silence. Then come daylight there they were in the same position. I felt quite proud of our convoy especially as I shoveled coal twelve hours out of every twenty-four, helping to provide the steam power for my ship.
As stokers we were paid $100 per month and a further $25 per month danger money when we left port for the high seas.
Part-way across the Atlantic we ran into a bad storm. I used to crawl along the propeller shaft housing, as did the rest of the black gang to go on watch in the stoke hold. During the storm the rolls of paper broke loose atween decks and sounded like thunder as they charged around, huge rolls of paper run amok. The bosun had his legs crushed when one of the rolls suddenly changed direction when they were trying to make them fast. Also the ship went into a list, leaning over to one side. There was danger of her going over, and it became necessary to jettison the deck cargo. They chopped the cables holding the lumber and let it go, thousands of feet of lumber, and for a time it looked like the ocean was paved with it.
The ship weathered the storm and the convoy continued to the west coast of Scotland where it broke up as most of the ships were going to Murmansk and other Russian ports. My ship, the Elmpark, together with five others, carried on south between England and Ireland as we were bound for Amsterdam and London. When we got down to the southern tip of Ireland we were attacked by submarines, but by this time we had been met by three British destroyers to escort us in. The German sub was firing torpedoes at us while we and the destroyers were throwing depth charges; the destroyers charged around us like sheep dogs. Down in the stoke hold we were working like beavers, carrying an overhead of steam: it was shovel and rake, shovel and rake, with the chief engineer screaming "More steam boys, more steam." At one time I saw the bulkhead ripple from an explosion too close for comfort. Thus we kept on through the night. I came off watch at four a.m. and went on deck for fresh air, and there off to the left in the breaking dawn I saw the White Cliffs of Dover. We ran into Amsterdam but could not get into the harbour because of the many sunken ships, so we offloaded our deck cargo of crated planes onto lighters, then ran across and up the Thames to London.
We docked at Customs House and as we were wrapping the hause on the bollards a V-bomb hit the ship in the next berth, destroying it completely.
The customs officers came on board and found the one thousand cigarettes I had buried in the coal bunker, and cigarettes and a bottle of rum the cook had stashed. He got thirty days for that, and I paid triple duty with my cigarettes confiscated. That was a tough place to dock.
Our peggy, cabin boy, had quilted the inside of his coat and filled it with sugar, but going through the gate the policeman thought the shoulders were too full. The sugar was confiscated. I had a Bulova wristwatch for Kathleen and a tin of fifty cigarettes I hoped to smuggle ashore. I got a bright idea that worked: I had a drawstring cotton bag given me by the Red Cross when we sailed, containing some comforts, so I placed the watch and cigs in the bag and surrounded them with fruit, grapefruit, apples and oranges, thus giving the bag a nobbly appearance. Going through the gate the policeman wanted to know what was in the bag, carried by the drawstring on my finger. "Just a little fruit for the kids, they seldom see any now." Fruit was practically non-existent in Britain at that time, and he let me pass.
During the crossing I had mastoid trouble which was treated by the ship's steward with mustard plasters, as we did not carry a doctor. I was not in very good shape and had to report to the Seaman's Hospital for treatment and then get back aboard ship to be paid off. I could not go back aboard till I got rid of the watch; so I phoned Kathleen's home to tell her to get down to the hospital as soon as possible. I had to wait around the hospital for several hours till she showed up. It was raining very hard, so I stayed inside walking a wide corridor between front and back door. Eventually Kathleen appeared riding between two policemen in a car just as I reached the back door, and I was not too keen on being in contact with any policeman right then. Apparently the policemen, in view of the heavy rain, had offered her a ride round to the back door when they saw her looking for a Canadian at the front entrance.
I was paid off-ship and found work in Ford motor works in north London, where they rebuilt parts for military vehicles.
I was in London for V.E. Day when the population went crazy rejoicing. I was in front of Buckingham Palace with thousands of others. The King and Queen, with other royalty and Sir Winston Churchill, came out on the balcony periodically waving to the crowds. In between, the crowds would chant, "we want the King, we want the King."
There was an Australian soldier close to the gate carrying the Australian flag; he had been celebrating, and was loaded! He tried to climb up the high gate, got nearly to the top and then lost his flag down inside the gate; suddenly in the calm between the chants, "I want me bloody flag" could be heard all over.
There was good reason for all the rejoicing on V.E. Day. The civilian population had suffered terribly from the war, but the war never broke their spirit or morale. They accepted it, often with an ironic sense of humour. Once I walked along a street after a bombing, saw the glass blown out of a butcher's window into the street, and a sign: "The other butcher did this!"
At Camberwell Green, a traffic intersection near my wife's old home in southeast London, a land mine hit a shelter, making such a mess that it was filled in as a communal grave and exists today as a small green park.
John and Kathleen were not, strictly speaking, married at this point. As we will soon see, John returned to Canada shortly after V.E. Day, and we presume this was a time of intense marital strife between him and Mary. John will return to London in February 1946, and he and Kathleen will finally get married on April 6, 1946—although, alas, he omits any mention of this from his memoir.
After V.E. Day my wife and I were riding on a bus through Elephant and Castle district in London, when upon looking down a side street we saw a block of apartments blown sky high. A large bomb dropped during the Battle of Britain had penetrated diagonally under the building and failed to explode, and then, so long after, possibly a movement of the substrata triggered the mechanism, causing the explosion with a lot of casuaIties. The devastation in the bombed areas was horrible, impossible to visualise; in some places whole streets of houses were leveled. When the area round the Tower of London, which was literally leveled, started to green up, they found plants that had not been seen for over a hundred years.
When I was finally repatriated by the merchant navy in July, I returned to my farm at Rocky Mountain House and acquired some stock and implements I would need. I had used my army gratuity to pay off my land. Hewed out a set of squared logs and built a new house; things looked pretty good and I hoped to get a passage for Kathleen to Canada in September.
John had more to occupy himself in these months than just hewing logs and writing letters; his wife Mary was suing him for divorce. Their divorce was finalized in March, 1946.
John's intentions and motivations at this period of his life are difficult to interpret. The fact that he purchased livestock and implements in the summer of 1945 indicates that he was getting ready to settle down and start a new life with Kathleen on his farm in Alberta. Yet just six months later he had sold his farm and was heading back to England, apparently abandoning his old life in Canada for good. What relationship did he have with his children (who were now between the ages of 6 and 15)? We know from court records that shortly before leaving Canada he was delinquent in child support payments. One gets the impression that this was a deeply troubled time for John and his family.
Fall came and no passage for Kathleen; it was difficult with many people and troops to be repatriated. October, November, December: no word of a passage.
I wrote her a letter suggesting I return to England for a time, and her letter with the same suggestion crossed mine, so I sold out, sold the land also and booked passage to England. I started out for Halifax, and was paged on the train to report to Anchor Donaldson Steamship Line in Montreal; on one of their ships I had booked passage. I was advised not to proceed to Halifax as accommodation was very scarce and they didn't know where their ship was or when she would be sailing. I had made a friend on the train journey who was traveling back to England for the same reason I was, and we elected to continue to Halifax. 'Twas February, and raining cats and dogs. We walked the streets of Halifax all day, water running out of us, but no accommodation. Suddenly I got a bright idea and walked into the Y.W.C.A. and caused some consternation, but the receptionist was quite responsive when I asked her if she knew any acquaintance who might be able to help us. She phoned around and gave us an address. It proved to be a large frame house with a wide hallway upstairs, and there the lady strung a curtain across and set up a Winnipeg couch. There we stayed for a whole week till the ship came in.
The ship finally came in, off the North Atlantic route. She was encased in ice, and they were still chopping ice off her shrouds when she started to load for a quick turn around: wheat in the hold, bacon and paper atween decks, and a goodly number of passengers, mostly women and children.
Among the passengers was an old English couple in their late seventies from Victoria, B.C., where they had lived for many years. They were traveling back hoping to spend their last days in their old village. The old lady became ill and passed away and wartime regulations would not permit her body to be taken into England, so we had to have a burial at sea. Most impressive. The captain conducted the burial service with the corpse enshrouded in weighted canvas lying on a table the height of the side rail. As he announced the committal the table was tipped up and the body consigned to the deep, and the ship, which was stopped, then circled the spot and proceeded on its course. The old gentleman was terribly upset. Quite a tragedy!!
Some of the women were English girls who had married Canadians and been sent out to Canada. There were several tragic cases whose husbands had been killed in action, and the poor girls found it difficult to cope. Others were Canadian girls who had married Britishers who were in Canada on air force training.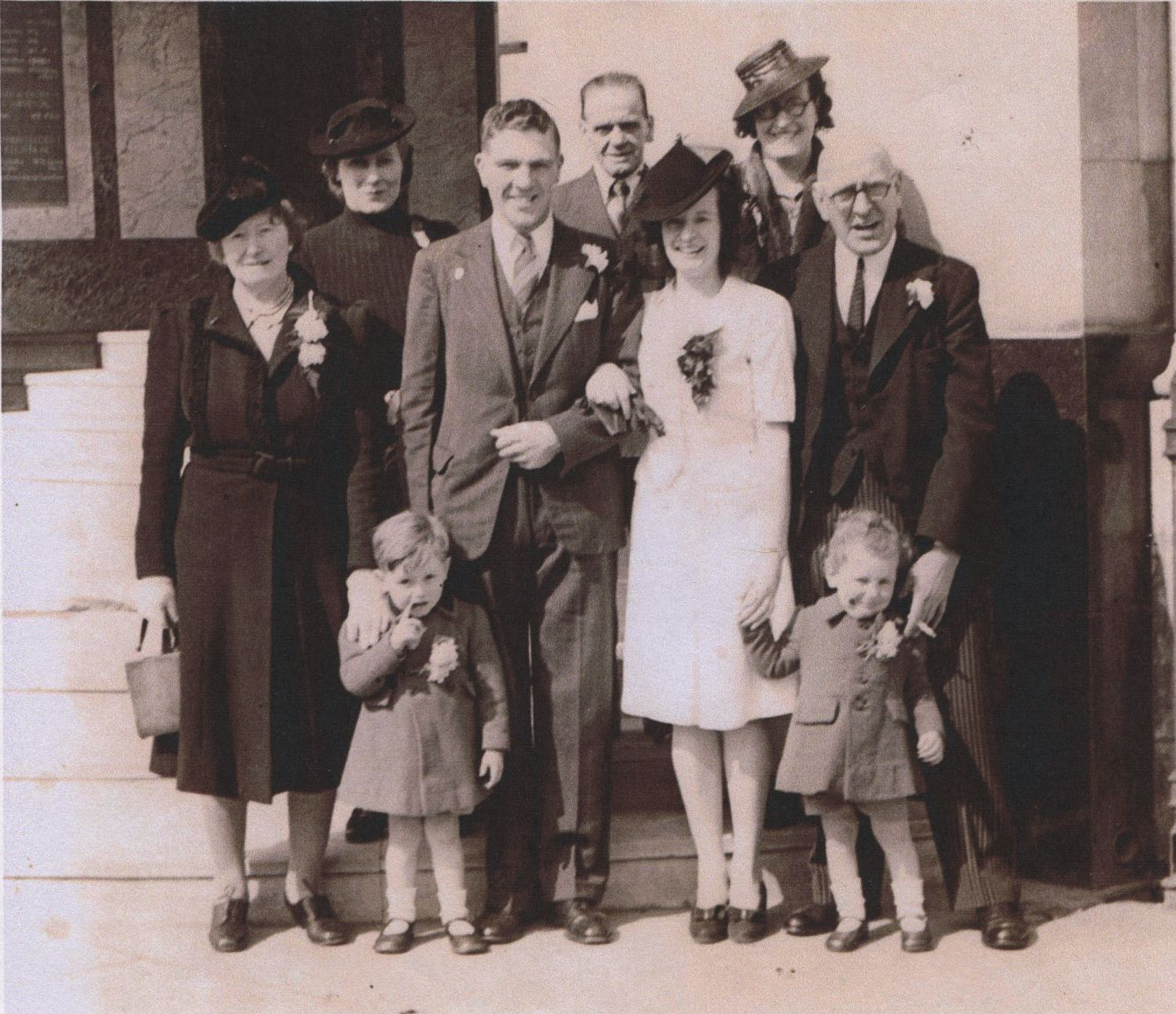 John and Kathleen's wedding, April 6, 1946
February, 1946. John worked as a farm hand at Mill Bridge Farm near Colnbrook in Buckinghamshire until April, when he got a job with the Express Dairy Company. He and Kathleen got married on April 6.
John worked as farm manager for the Express Dairy Company of Tavistock Place, London from April, 1946 to July, 1947.
Back in England I found work on a large dairy farm for one month, after which I found another position, more to my liking, horseman with the Express Dairy Company in London, which had a thousand horses on delivery every day. I had to exercise the horses, tend to the injured and ill horses and break the replacements in to driving single in the city streets.
The company brought in a hundred and fifty replacements from Ireland and Wales every year, and the replacement horses were all young and soft, only partially broken to field work. I would hitch them to a special, long-shafted dog cart, then turn them loose and let them run. When they would start to tire, I would cut the air round their ears: then they would realise they had to settle down and work.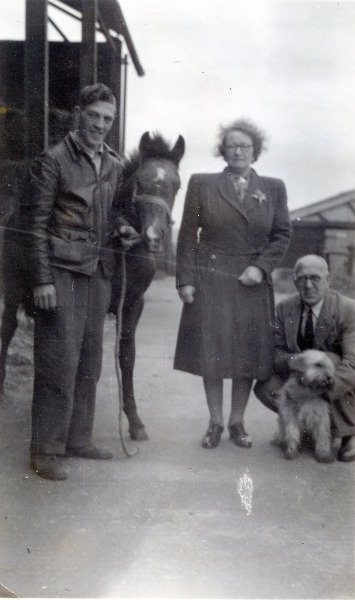 John entertaining his new in-laws (Violet and Alfred Willis) when they came to visit him at Frith Manor Farm.
In two or three trips they were ready to go out on delivery to one of the many stables scattered throughout London. I sometimes got the horses back to retrain as some greenhorn drivers would load their ninety cases of milk, and with the brakes set would try to get the horse to pull, which they could not do. As a result some horses were spoilt but I got them all to retrain. I had to resort to all sorts of tricks to get them to work again. As a result I was nicknamed the crazy Canadian, and reported frequently to the R.S.P.C.A. and police, who were duty-bound to investigate any complaints of cruelty to animals. They used to come up to my stables but soon got to know me and my methods and the complaints were unfounded. One time I got one of these problem horses; got him back to work three times; he got a bad reputation with the drivers so the manager wanted to send the horse to market. But a young three-year-old horse offered for sale, unwarranted for any sort of work, would not fetch much of a price. I told the manager I would break the horse to ride. The only gear I could get was an English flat saddle and a very old riding bridle, the stitching of which parted the first time the horse stuck down his head to buck. A bucking horse on an English saddle is not much fun! In short time I was riding him with no trouble and he went to Barnett Market warranted to ride, and as he was over sixteen hands he was sold as a gentleman's hack. He became a steeplechaser and was winning races before I left England.
I enjoyed working for the dairy company. I had a nice six-room flat that went with the job, and I was made foreman the first month on the job. I had good wages and fringe benefits but I found the horizon too close, and started to get a longing for Canada. I didn't know how to break this news to my wife who was quite content, with a nice home, and close to her people in south London, till one night at supper time when she started to cry. When I enquired as to the trouble, she blurted out, "That is the last of the bread, I've no coupons to buy more." Here was my chance: "I know where we can go and eat without coupons." Food rationing was especially bad just after the war in England.
I sought out a passage and the first one available was on a French ship, the DeGrass, which had just been completed after being raised. She had been under construction at the beginning of the war and was scuttled by the French government when Germany over-ran France. I was fortunate to get a cancellation and crossed to New York in the DeGrass on her maiden voyage. Although we had a sixty-day visa in the U.S.A. we were unable to stay in New York more than a few days, as we were hampered by a lack of U.S. currency which was very hard to get in England and all of our other money had been transferred through the banks and was not available till we got into Canada.