We Go South!
1951-1958
The time arrived when to continue living in Hinton was a threat to my private life. I applied to the Deputy Minister for a transfer, or I would have to resign. He granted me a transfer, on condition that I paid my own moving expenses and agreed to work temporarily as assistant to Ranger Jones on Castle Ranger Station west of Pincher Creek. I agreed, of course.
Boyd Elliott (1935-2003) had a career as a ranch manager near Savona, British Columbia, and later served in municipal government.
---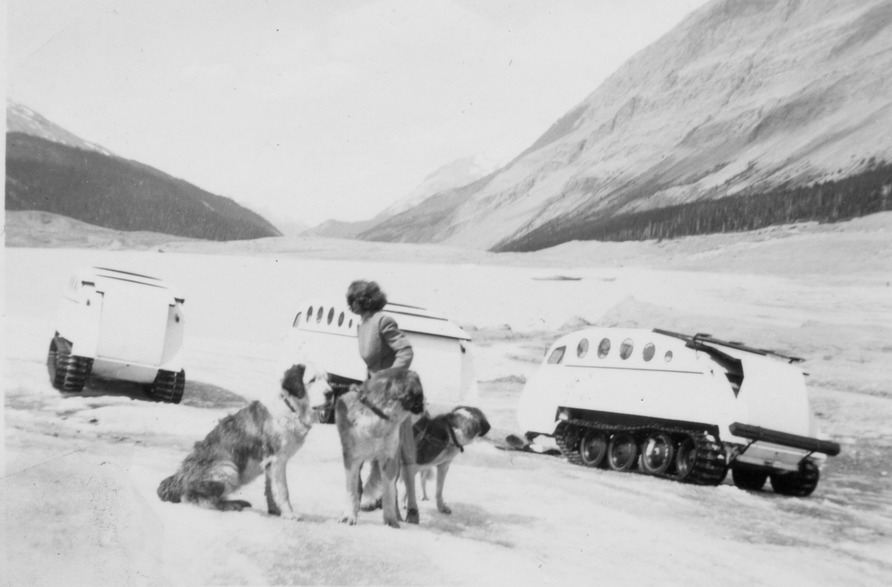 Kathleen and dogs cool off on the glacier
Kathleen with the dogs on the Columbia Icefields, enroute from Hinton to Castle.
I arranged for a railway boxcar, loaded my six horses and all our possessions, and with my oldest boy to care for the horses we shipped out by rail.
My wife and I traveled by pickup truck, loaded with four grown St. Bernard dogs and four young pups, down the Banff-Jasper Highway, a vastly different road from today's beautiful highway. It was hot weather in early July 1951, and when we got to the Columbia Icefields we let the dogs out to cool off. The ice in those days was right down to the road. The dogs enjoyed a run on the ice but we had a job getting them loaded again; the many tourists wanted to photograph them as they thought the dogs were there for training in rescue work.
We continued on to Calgary to spend the night with farmer friends on a farm where 65th Avenue N.W. now is. The Calgary Stampede was in progress, and we decided to spend one day there as Kathleen had never seen a Stampede, proposing to travel on south at night to make up for the stop over. We set out late evening traveling south to the junction of highway three at Fort McLeod where we traveled west; presently we were passing through the Brocket Indian Reserve. There was no sign of habitation, no lights; this was new country to me and I did not know exactly where we were. After driving for some time, we pulled off to the side of the road, let the dogs out and permitted the puppies to suckle, and crawled into our sleeping bags for some rest. When we woke up it was daylight and we saw the town of Brocket quite close. We knew it was not far to the town of Blairmore and the head office of the Crow-Bow Forest Reserve, in which area my new station was.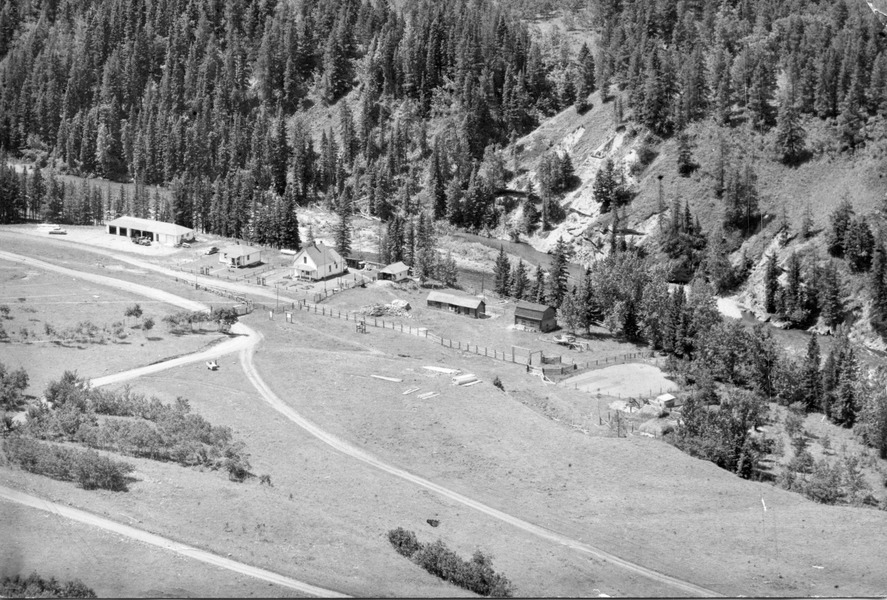 Aerial view of Castle Ranger Station
Mr. Lind, the forest superintendent, gave me directions to my new district and Castle Ranger Station: cross-country over the Adanak Road, down which large forty-ton trucks hauled coal from a strip mine on top. The trucks kept to the high-bank side of the road down the narrow twisting gorge, and this necessitated the up-going traffic to change from side to side. Not being used to this, although I had been briefed in the office, I met a truck and automatically switched to the right and just missed being hit, as I remembered in time.
My first trouble was that Ranger Jones did not like dogs. The superintendent came out and told me to get rid of the pups. I told him a ranger was allowed a dog team, and how many dogs constitute a dog team? "Oh!" he exclaimed. That was the end of that. Actually the pups were to be sold when old enough to leave their mother.
Not long after my arrival, a bush worker rode into the station on a skid horse, "Man sick, bad sick in camp." Jones and I drove up to the camp and found that there were only two of them cutting mine props. They lived in different shacks and were not friends. The sick man was in a coma and had evidently been sick some time. He had deep scratches across his abdomen and metal rivets on his trousers were torn out; he was lying in his own excrement, a terrible mess. His pulse was faint and thready. We backed the truck up to the door and loaded the mattress (with him on it), then started for the hospital in Blairmore.
We were unable to find any papers or any identification except for a grocery box in his shack with the name Zakof. When we got to the hospital, that was the only name we could give them, and we were glad to turn him over to the nurses and didn't envy them the job of cleaning up the mess. The sick man died next morning without regaining consciousness. There was money owed him, and his employer paid for the funeral. We forgot about the incident, just part of our job; then some months later the Mounted Police questioned us on where we had got the name, as Immigration could find no record of him. They had investigated the United States and Mexico, but did not find a Russian immigrant named Zakof unaccounted for. We had to sign affidavits as to where we obtained the name Zakof.
A ranger had many regular duties and responsibilities, together with unexpected and unwanted duties thrust on him, as he was the government representative in his district.
The next unexpected incident we were involved in was a messy suicide. A man had blamed himself for the death of his wife and went to the remains of a lumber camp where he had met her and blew his brains out. He had a piece of land just outside the forest reserve and was working at a lumber camp where he met his wife. They married and lived on his land. They were both in their late thirties, both hill-billy types. Going into their place one day over a make-shift bridge that crossed a very deep ditch, he stopped and got out to open the gate, leaving his wife in the truck, which, having no brakes, rolled forward and tipped over and pinned her underneath. He was unable to raise the truck and so felt he was responsible for her death.
On the day of his death he stopped at the ranger station to borrow a tire pump, then went upriver. When he didn't come back we went out to search for him, and found his car with a note fastened to the dashboard. He apologised and asked that what money he had be paid to his brother on the debt he owed him. He named people to be pallbearers, took a slug of gin, propped a mirror up in the gravel, put the muzzle of his rifle in his mouth and blew his brains out. When we picked him up there was only a face with a scalp dangling like a bearskin.
At the time of which I write (1951), Castle District was the Carbondale-Waterton Game Preserve with a large population of elk or wapiti. After one year with Jones I was transferred to Coleman in the Crowsnest Pass. There some of the coal mines were shut down and there were many unemployed miners. Game poaching was rife, and I was to enforce the Game Act. I also had Ironstone Lookout to service, and this I was able to do by truck up a switchback road with some corners so sharp it was necessary to drive up them backwards up to the next switch, drive up then back up— quite a road! I was kept busy enforcing the law, fighting one fairly large forest fire, and patrolling on the south end of the forestry trunk road. The children were able to attend school there.
The first Saturday after arrival in Coleman I was accosted by a woman in the street who asked me if I could get her some paint. I was aghast, as we had difficulty getting such supplies from the government. However, she explained that the previous ranger could supply paint wholesale. He had, and had quite a racket!
After I had spent a year in Coleman, Jones was transferred to the game preserve in Canmore and I was offered Castle District. However, I did not accept immediately. I was afraid my children would prefer to stay in Coleman and attend a proper school. After a family consultation they elected to return to the bush and continue their education through the correspondence school.
I was now back permanently at Castle Ranger Station, with a lookout man on the mountain top, and two assistant rangers, one at an outlying cabin at Lynx Creek, the other at headquarters with me doing carpentry work. The Department had adopted a policy to provide better housing for personnel, and the rangers did a great deal of the building.
I had a lot of timber work to superintend, as the area had been badly burned-over a few years before. There were many salvage operations, much cutting of mine props and salvage of building lumber. Also we were still cleaning up crooked deals conducted by an earlier ranger, who renewed timber permits and sold illegal hunting permits in this area which, as I mentioned, in those days was the Carbondale-Waterton Game Preserve. When renewing the permits he pocketed the proceeds. By chance, on one occasion one operator paid with a check which found its way to the Department. That ranger was asked to resign!
Yes, we had a few such cases. It seems in all walks of life there are a few who abuse the responsibility they are entrusted with. I came across two such cases in my twenty years of service with the Department of Forestry. The other case was on a district next to mine, and to make matters worse the ranger involved was a relation by marriage to the minister in charge of the Forestry Department. I knew what was going on, but didn't report it because of the relationship. I had some very good martin country in the back part of my district, and endeavoured to know my neighbour's whereabouts, so that when he was not at his station I could avoid my back country lest I caught him in the act and be forced to report him to the Department.
I found a boned-out carcass of a mountain sheep on Plateau Mountain in my district, freshly killed out of season. When I mentioned it to my ranger neighbor he claimed he had killed the sheep and tried to get me involved in a trapping partnership. He claimed he could sell all the hot furs he could get. I had to make excuses to avoid complying with his suggestion. I could not see his attitude: I had a job with considerable responsibility and trust, and tried to do my job the best I could, within the framework set out.
Castle Ranger Station was in the Carbondale-Waterton Game Preserve, stretching from Blairmore south to the north boundary of Waterton National Park on the international boundary. One of my many duties was to record the annual precipitation falling in the district at twelve different locations. This meant in winter many trips by dogteam and snowshoes to read the twelve precipitation gauges. We were in a deep-snow area, and one winter the gauge at the station registered two hundred and forty inches of snow from November to May, whilst a gauge thirteen miles upriver recorded three hundred and twenty inches in the same period. It was a dry powdery snow and blew a great deal. At the station we could not shovel out paths, but trode out paths on snowshoes after every snowfall. I had to keep raising Kathleen's clothes-line till spring, and when the snow went it looked like a radio antenna.
The snow generally came early and we had to buy six months' groceries and supplies in October, and get our vehicles out to Beaver Mines from where the road was generally cleared. One year on the 19th of October I started out on game patrol riding a very tall horse. When I left in the morning there was no snow; when I returned at night the horse was pushing snow with his chest. We had a five-foot snowfall and my forestry vehicle was still in the yard — there it stayed till the 9th of June. We snowshoed or drove dogs ten miles out to the Beaver Mines post office at least once each month: we had to have our mail, as the children were doing their schooling by correspondence under Kathleen's supervision. She was quite strict with them; they had to sit down to study at 9 a.m, and kept regular school hours. If they got behind they were obliged to study instead of getting out to play.
As previously mentioned, we had to stock up with supplies in October, and that was quite a job for Kathleen, for she had to remember everything she might need. Even the children had to be thought of. A sack of peanuts, cases of chocolate bars and some soft drinks. We bought in bulk, of course; bags of flour, sugar, a whole cheese. Generally there were three truck loads, and one would be vegetables we bought from a Hutterite colony near Pincher Creek, our nearest town. With such deep snow there never was much frost in the ground, and when the snow finally went in spring the grass would be green and the flowers would come out in profusion. The district seemed to be in a transition area, with a lot of flowers not seen north of us but more common to the south and into the western United States.
One spring I left the station in the morning of the 4th of May with the dogteam. I could travel only in the early morning and late at night when the snow was crusted, having to hole up in the daytime when the sun softened the snow. I was enroute to read the precipitation gauge at the head of South Castle River thirty-five miles from home. I got close to the gauge and made camp in the spruce grove near it, read the gauge and settled in camp to await night and crusted snow. But that night it did not cool off and started to rain, on a six-foot snow pack. Next day's journey was one I will never forget. If I stepped off the back of the toboggan I went in to my armpits, and the poor dogs had to jump from one hole to another. When we reached home we were all in. The wild weather continued. The river broke up and flooded, carrying away the bridge on the road leading north, and we could not use that road all summer. Next winter with the aid of one assistant we built a new bridge, which necessitated building a log crib on the ice mid-stream to carry the log stringers. When we had completed the crib we chopped the ice, letting it sink to the bottom, then filled the crib with large stones to prevent it from being washed away. We next had a caterpillar tractor sent down to pull the log stringers over—a lot of hard work, but we had a new bridge!
On a Monday morning when going into Blairmore to fetch my trail crew, I spotted a grizzly bear playing with a two-year-old steer, throwing it around like a cat playing with a mouse. We had 3,500 head of cattle in the district for summer grazing.
I stalked close to the bear and tried to shoot him, as a killer bear would continue to kill cattle. I did not knock him down and he headed for the thick growth of young pine, running on his hind legs clasping one front paw with the other. I followed to the edge of the timber but did not pursue him further because a wounded grizzly in the bush was dynamite. I proceeded to fetch my work crew, thinking I would go after the wounded animal next day, but that was not to be!
Calamity struck. I had a crew of ten men clearing trails, the first of which they had finished, and I had to move their camp over into the next valley. I proposed to send the six horses up with my assistant one day, and next day I would take the pack saddles and gear in my truck and pack the camp to the new location.
My assistant was a young inexperienced chap just back from Korea. I had to prepare the horses: I tied the first to the stable wall, then tailed them together, each horse tied to the tail of the horse in front. With six horses ready to go I thought perhaps I should take Kathleen's pony for the old cook to ride, as he was quite old, about seventy. I had just tied the pony to the tail of a gelding in front of her and stepped back to pull the knot tight, when she whinnied and struck forward, hitting me in the back. The gelding, hearing her, kicked back with both feet and struck me above the knee of the right leg. I went down beneath the horses with the bone sticking through my clothes. The horses were now scared and jumped back and forth over me while I tried to pull out from under them using my elbows to walk me along the ground. It never occurred to my assistant to untie the first horse and lead them away; instead he went running towards the house shouting, "Kathy come quick, John's hurt." Kathleen had enough sense to move the horses and get me propped up with pillows, the broken leg resting on the other. She wanted to cut off my riding boot, but I foolishly would not let her. I hung on to the broken leg below the break and she managed to get my boot off.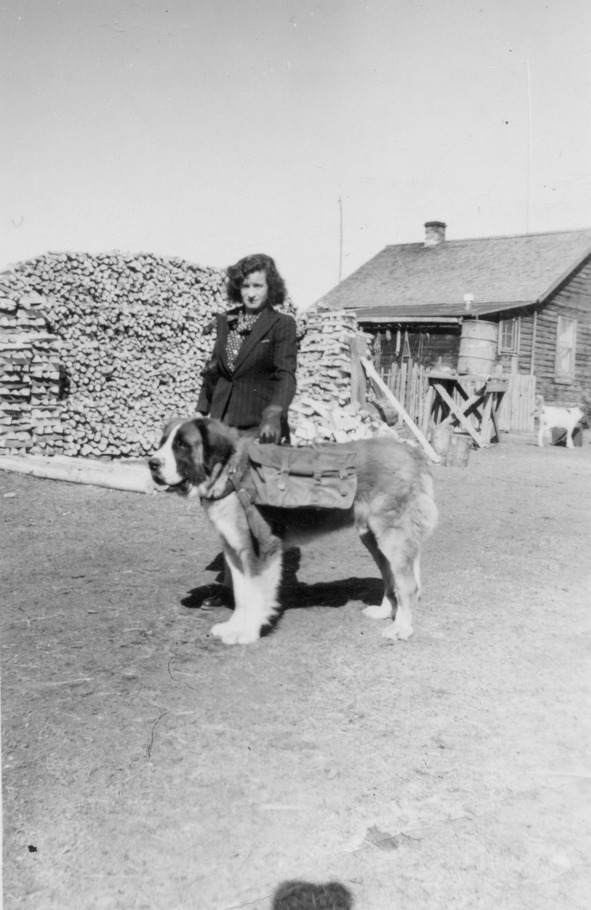 Major and Kathleen dressed for a show.
Major in spring 1951, when John and Kathleen were still living in Hinton. They are dressed up for a dog show in Edmonton.
After I was settled, I saw one of my St. Bernard dogs was quite excited and suggested he be let loose to keep me company. This was the worse thing possible for me, as the dog tried to root me up onto my feet. Any movement with a compound fracture of the femur is awful, and it took two people to drag old Major away.
While waiting for the ambulance, the foreman from a sawmill upriver stopped to see what was the trouble. He was most upset but as he was on his way outside he was asked to phone from the first ranch and ask for a doctor to come out. He phoned as requested, then promptly fainted.
After two and a half hours an ambulance arrived. They did not have anything for pain, and suggested to Kathleen to give me some spirits. She brought me a tumbler full of neat Scotch whiskey; I complained she put too much water in it. The idea, I suppose, was to knock me out, but when they laid me flat to splint my leg I could hear someone screaming. They got me loaded onto a stretcher in the ambulance and started out.
Our forestry road was quite rough and they drove very slowly, but I suffered torture. Fifteen miles out a doctor met us and administered morphine, what a relief. I can still remember the warm glow; the pain was there but did not hurt. A wonderful drug when necessary.
In Pincher Creek they tried three times to set my leg, with no success. My doctor, afraid I might lose my leg, decided to send me to Cross Hospital in Calgary to be under Doctor Townsend, the leading bone surgeon in Alberta at that time.
Doctor Townsend could not operate at that time. I was suffering from shock and paralysis from the waist own, and there I hung suspended and on I.V., only semi-conscious, for fifteen days. When I came out of the operation I found myself in a body cast from foot to neck with both legs separated, with a stick between to keep them so. I spent the first two weeks in a huge cast, including all the surgical dressing. The weather was very warm, late July, and they would open the windows to allow air to circulate. I was covered with a cage and sheet and I couldn't stand the smell of the dressings; I used to lie with my head turned sideways over the edge of the bed.
I wasn't allowed solid food of course — fifteen days on I.V. — and was allowed to drink liquids when I could, having tubes through my nose. One night a strange ward maid brought in the evening drinks and asked me what I wanted. She was obviously inexperienced or had not been coached. I requested a glass of milk, which curdled in my stomach and blocked all my tubes and I nearly choked to death. A patient in the same room saw me in difficulties and called the nurse. A stomach specialist worked on me till midnight and cleared out all my tubes, pumped me out and then I had to swallow larger tubes.
As I mended I naturally wanted to get out at least to Pincher Creek. Eventually the big cast was removed and replaced by one leg cast from hip to foot. I was now able to get around on crutches and was raring to go. Doctor told me I could go home when I could go to the bathroom alone; I started to practice and found by lying down across the seat I could use the bathroom. When I told the doctor bout my achievement, he insisted on going with me to the bathroom to watch me demonstrate.
Now I was allowed to go home. They had cleared the road past the station but it was still over a hundred yards from the house, and when I got out of the car the crutches sank right into the snow. I was helpless. Kathleen and my son harnessed old Major, the dog that saw me injured and taken away in the ambulance, to a toboggan. What a welcome I got from the old dog. He pulled me to the house and camped outside the window on the veranda and would not move. When my assistant at the outlying cabin, who had been carrying on in my absence, came to visit me next day the old dog jumped him. Major was not going to let them take me away again.
It was very trying lying around the house. I decided to get some exercise, and found that by placing my crutch on the snowshoe crossbar and using a good stout ski pole in place of the other crutch I could get along.
My lead dog had died from porcupine quills in her throat while I was in hospital. The others would work, but required a leader: I would get them hitched and they would follow as I snowshoed downriver. When I got tired I would turn them round, climb in the toboggan and they would pull me home.
I went back to the doctor who took the cast off and wrapped the leg with elastic bandages, saying "Take it easy, no snowshoeing." I told him I had been doing so for a month; "Well I'll be damned," he exclaimed. Meantime I had been suffering from a total of forty-seven boils all over my body, and they even had to lance a large one on the inside of my knee, which had started to run up my leg. I was due to go back to the Workmen's Compensation Board where they gave me medication to take, as apparently some virus or something had developed in the hospital ward where I was and the ward had been closed to visitors after I left.
We appear to have just enough information to date these events precisely. We know that John transferred from Coleman back to Castle at some point in 1953. If the day of the accident was the same day he saw the bear attacking the bull (which was a Monday), the nearest year wherein July 5 falls on a Monday is 1954. Therefore John was laid up from his injuries from July 5, 1954 to the end of March, 1955.
I finally got back on duty at the end of March, a long time from the 5th of July the previous year.
Before my accident I had two other incidents: they opened the game preserve for hunting, and I had a large forest fire.
The Carbondale-Waterton Game Preserve had been in existence for thirty-five years and was vastly over-populated with elk. There was considerable sickness, disease and deformity, some of which I would kill and send in for analysis. We had no large predators in the area.
It was decided to have open season on all adult elk, and in view of it being a new hunting area there was a tremendous flood of hunters. I registered over six hundred in the first month, and did not get them all as we could not keep enough books at registration points.
The elk were not used to being hunted, and it was just like a stockyard. When shot at they would run a short distance and stop. It was not hunting, it was a slaughter. Another thing: many elk calves were shot, and these were left, as it was against the law to take an animal under one year of age or with horn under four inches long. Elk calves born in early spring were quite large by fall, hence many were shot by mistake and left lying. With the many hunters in the field the number of dead calves was multiplied and got to the knowledge of the public. Some game officers were sent down from head office to help me inspect the area, because I was going almost night and day. We actually found forty calves, which could be multiplied by the number of hunters into hundreds.
The elk certainly needed thinning out, especially as there were only three good areas of winter grazing. It was nothing to stop my truck when a herd was crossing the road and count as many as four hundred elk.
It was bad management. It would have been better to have opened for bulls only at first, to stir the herd up to be more wary. Directly opposite my station was what we called the bald hill, which was swept clear of snow in the winter. There a lot of elk would congregate. The summer after thinning the herd I noticed it become white almost like snow, and when I inspected the hill I found saskatoon berry bushes that had been kept grazed to the ground and which were now in flower, not having been over-grazed the previous winter.
It was my duty to salvage as much meat as possible if fit for human consumption. We dropped meat off at hospitals, convents and the Lethbridge gaol till the prisoners revolted at being fed so much wild meat. It got so that we could not get anyone to take it. My dogs got thin from being fed too much meat.
I was cutting hay for winter horse feed and had to go out to Pincher Creek for mower repairs, when I looked back to the mountains and saw smoke billowing up; a forest fire. I headed for the station fast. When I got back to the station I learned the fire had started in some mature timber at the head of Carbondale River. My assistant at the outlying cabin in that direction was closer to the fire and had started out with his firefighting equipment but got trapped behind the fire and was of no use in fighting the running fire. The other assistant at my headquarters had started out with the tractor and a wagonload of equipment and broke down on the way. We always drew up a pre-suppression plan, delegating responsibilities and duties to all the timber operators and nearby settlers. This was done every spring.
When I got to the fire there was no-one near it, the nearest big operator being about three miles away. Burmis Lumber Co. were supposed to supply bulldozers, but when I got to their camp three miles from the fire they were hosing down the buildings and the dozer blades were out in the bush. I got them cracking!!
Meantime I was arranging for more equipment to come from Calgary and calling out my cook to have a fire camp set up. My superintendent interfered and told me that Burmis Co. would send sandwiches out from their cookhouse—they did, salmon sandwiches—and these nearly killed the men. I finally got my camp set up with cook tent and sleeping tents.
I finally got the Burmis caterpillar tractors out and personally led the first cats in the dark cutting the first fire line, along the steep side of Carbondale River, out of tall mature timber.
The Indian Reserve at Brocket supplied twenty men under Chief Bald Eagle, there was a number of local settlers and the crews from several timber operations, and the Mounted Police rounded up a lot of men in town, till I had a crew of three hundred men. We had sixteen bulldozers, sixteen fire pumps and miles of fire hose laid out. As district ranger I was fire boss and solely responsible for the whole operation, manpower, catering, equipment and service. A truckload of equipment arrived from Calgary to augment my supplies.
The fire was running as fast as a horse, down the Carbondale Valley out of the virgin timber into logged off areas, containing a number of dead trees and high stumps which, when they caught fire, acted like Roman candles, throwing sparks hundreds of feet ahead. I went past the head of the fire to scout out fuel types and terrain but before I crossed ahead of the fire I was surrounded by fire and only just made it to the fire's edge. I found the fire had topped the ridge into Gardner Creek and more mature timber.
Each ranger and some staff from headquarters were given a sector of fire line and a crew of men to grub and beat out the fire line and try to create a dead zone with no fuel for fire to feed on. The fire pumps were pumping out the creek bottoms but could not reach the high ridges, so some water was carried up in backpacks, and if a tractor was available it pulled a small tank of water. Most of the work had to be done by hand, back-breaking hot work!
The fire was still running and jumping the line in some places, and it was decided I could use a helicopter that was quite close, just over the range in British Columbia. This was the first time a helicopter had been used on a fire; they are regular tools in firefighting today.
I went up in the helicopter carrying a portable radio and was able to send back a message that the fire had jumped the line in one section and was running wild towards the Ranger Station.
When I got back down I found no action as yet on the breakthrough; the dozer foreman thought it was too dangerous to risk the tractors, but one devil-may-care cat operator volunteered to try to cut off the breakout. I rode with him on the bulldozer and we were successful in cutting off the fire and establishing a new fire line. The paint was blistering on the caterpillar tractor when we got through.
After a few days, the fire was under control but had to be watched continually, and hot spots had to be dug out because the large tree stumps burned down into the ground and were liable to flare up as soon as air got to the smoldering roots.
We were a long way from being safe, when I had more interference. Returning to the fire control tent after an inspection trip, I heard the headquarters chief ranger talking to the superintendent on the radio. I heard him say, "Yes, we can lay off a hundred and fifty men." I knew if the fire started up again and got away, I would be held responsible, so I radioed the super my resignation, effective immediately. Within an hour he was out to fire control, and hunted me up on my sector on top of the Carbondale-Gardner Creek ridge. He would not accept my resignation and said to carry on, "You are the fire boss."
When I considered it safe I started to lay off men, but at the final layoff I had to retain two men for a further six weeks to patrol the fire area and dig out hot spots.
Rangers in those days could only have their holidays in winter when there was no fire hazard, and we very often went south into the United States. One year we decided to go to B.C. and Vancouver. We started by dogteam out ten miles, taking my younger son Archie to take the dogs back home. We picked up our car and headed for the west coast and out to Vancouver Island. It was a pleasant change. In February the grass was green and tulips and crocuses were coming into bloom, while back home it was winter.
When we got back to Alberta I managed to get my car to my outlying assistant's cabin over a cleared logging road and within eight miles of my own station. I phoned Archie and told him to bring the dogs to Lynx Creek to fetch us home. He was to come next day and there was no sign of him by mid-afternoon. A snowstorm had come up, so I started out to look for him and found him only half-way. I sent him back home to start out next morning to meet us. We spent the second night at the cabin, then Kathleen and myself started out with the dogs (which I had taken). It was tough going. All the previous day's tracks were blotted out by drifting snow, and I had to break trail for the dogs. About half-way home we met Archie, who then proceeded ahead of the dogs, and presently his earlier tracks were blotted out by the drifting snow. Some time later the assistant at my station appeared; he seeing what the weather was doing had come out to meet us. Before we finally reached home his tracks were obliterated too; we had barely made a mile an hour all day.
The winter after the big fire we went to Scotland and England for our holidays. We snowshoed with each a backpack out eight miles to Lynx Creek where the car was along with our luggage which had gone out piecemeal by dogteam. I had taken some each time I traveled in that direction. Needless to say it was easier traveling from Calgary to England than it was snowshoeing from the ranger station to Lynx Creek and the car.
1958 was an uneventful year, just regular duties and the usual small fires. In August I heard that the Department of Forestry was creating a new district and building a station on the upper Saskatchewan River valley on the so-called Kootenay Plains.