Back Home!
1947-1951
We crossed into Canada, first to Montreal where we spent a few days seeing the sights and visiting an uncle who lived there. Then west to Calgary where we arrived early in August 1947.
John's first day with the Alberta Forest Service was September 1, 1947.
As I had sold my land, my first thought was to find work to earn a livelihood. I decided to try the Alberta Forest Service and so headed for the Calgary office of the Crow-Bow Forest Reserve. There I found the superintendent was J.P. Alexander, who had been Timber Inspector in Rocky Mountain House during the thirties, and whom I knew. When I applied for a possible job Mr. Alexander said, "you should make a good ranger, you were the biggest poacher we had." There was no vacancy on the ranger staff but I was offered a temporary job as lookoutman on Cameron Lookout, the highest one in the province, which has since been abandoned. As it turned out I never had to take up the post as that fall was very wet, and in those days the lookoutman stayed down and assisted the ranger when there was no danger of fire.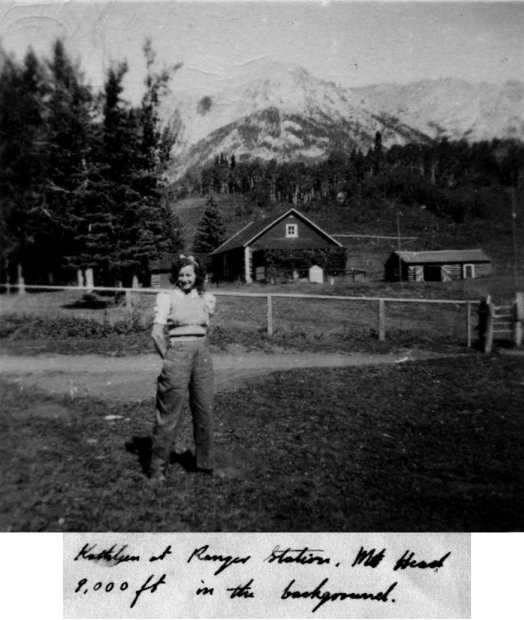 Kathleen shortly after her arrival in Canada.
Kathleen would tell the story of how when she and John arrived in Calgary, she was deposited in his mother's household while he went off looking for work. She, a city girl trained for office jobs and with few housekeeping skills, felt very intimidated by that house full of dour, judgmental Scots. After a few weeks she could take it no longer and hitchiked on logging trucks into the mountains where she thought John was stationed. He was more than a little surprised to see her. Compared to living with her mother-in-law she found living in a cabin a great relief, at least for a while.
I had a log cabin at old Sentinel Ranger Station, now Highwood Station. My ranger was Murray Meister, an eccentric old bachelor who was afraid of women. There my wife and I lived in a log cabin about twelve by fourteen; how she put up with it I don't know, except that coming from London where she had lived all her life this experience was a big adventure. After a few weeks I was appointed assistant ranger to Ghost Ranger Station under Tommy Wheaton. My headquarters were to be at Harold Creek Cabin, but I didn't get moved as the cabin was reported to be in a state of disrepair and we ended up spending the winter at Sentinel in the lookout cabin. We only had a sheet iron cook stove and the chinking was badly shrunk. Often we would wake up in the morning and have to shake the snow off the bedding.
My wife was learning new skills about her new country; sometimes in looking back we have a chuckle, like the first time she baked bread. The old ranger advised me we were going to pack out on the trail for a week. As I had to take a goodly portion of our supplies, I told Kathleen to bake bread while I was gone, which she proceeded to do. I found out much later that the first attempt was a failure; the instructions in her cookbook had proved to be confusing. However, she had heard me talking with the ranger about a camp some miles upriver, where there was indeed a camp of coal surveyors. She walked up to the camp and was confronted with a number of men who wanted to know if they could help her. She said she wanted to see the cook and when they produced their cook, a fat old man, she was taken aback, as of course she thought the cook would be a woman. The boys gave her a coffee and the cook gave her simple instructions on how to bake bread, and when I came in off the trail she had beautiful bread, as it has continued through the years.
Edward continued to take a personal interest in the ranch until 1962. See the Alberta Registry of Historic Places.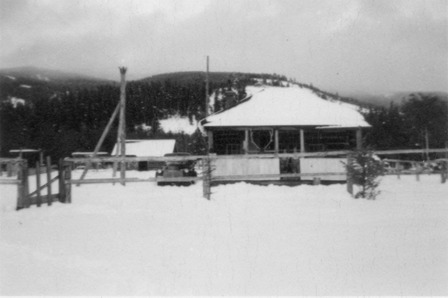 Pekisko Cabin
This brief mention hides a mountain of turmoil in the lives of John's children. While John was away at the War his children were moved around several times, staying at times with John's mother in Calgary and other times on Mary's father's farm near Olds. Now, we see them being moved once again to live in a succession of remote ranger stations, in conditions of virtual isolation for much of the year. John's daughter remembered it being a very unhappy time from a child's point of view.
George Lane, one of the pioneers of the Alberta cattle industry.
Spring came and the powers that be decided to have more personnel in that district, and I became a second assistant ranger. But after a shakeup in district personnel I was moved to Pekisko Cabin on the south fork of Highwood River. Pekisko Cabin was west of High River, sixteen miles west of the E.P. Ranch owned by Edward, Prince of Wales, who later became Edward VIII and abdicated. From the E.P. Ranch it was fifteen miles past Cartwright's D ranch, through sixteen wire gates, through four creek fords, just inside the forest reserve boundary. We were isolated there but it was beautiful ranching country and we all liked it very much. My children had come to live with me there, taking their schooling by correspondence. During the winter we ran short of supplies and it became necessary for me to pack down to the South Fork Trading Post at Pekisko some miles past the E.P. Ranch. It was a two-day trip so I spent the night at the old Bar U Ranch, originally started by George Lane . The stopover was no problem as western hospitality prevailed. At that time there were nineteen cowboys and ranch hands in the bunkhouse, and one more made little difference; however, at breakfast time I thought I might not get anything to eat although I sat down with the gang. It was a circular table: only the outer rim, wide enough for a plate, was stationary; all the food was on a central revolving table and it went past so fast I could not get anything I wanted, at least not till the ranch hands had loaded their plates.
At the store I loaded my pack horse with supplies such as I could obtain. My wife had asked me to get some fruit but all that was available was dried apple rings. I took ten pounds. I think we had apple rings forever and a day.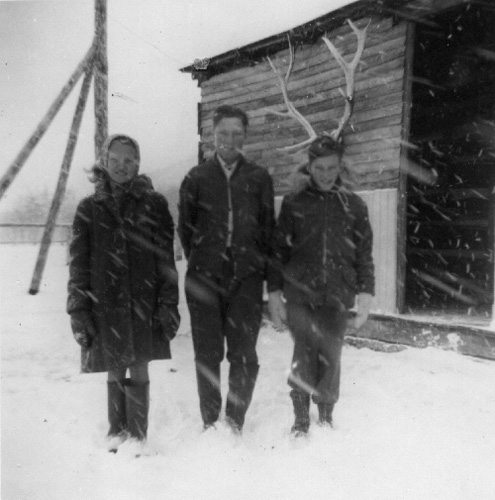 Probably 1948 or 1949 at Pekisko Cabin. Ruby, Boyd, and Archie.
This took place in the winter of 1948 or 1949, when Archie was 9 or 10 years old. John's relationship with his youngest son was complicated. Archie never seemed able to do right by his father, and he eventually committed suicide on April 25, 1959, a month before his 20th birthday.
John and Archie are memorialized in Bruce Hunter's poem John/John.
While at Pekisko Cabin I had several experiences, best left as memories. My youngest boy had an accident while skiing and got a nasty scalp wound; we couldn't stop the bleeding so I headed five miles down to Cartwright's ranch hoping to get some dressings and an icebag. I traveled as fast as I could on snowshoes, turned right around and came straight back. I guess I over-did it because I remember seeing the cabin in the distance, and the next thing I knew they were cutting frozen footwear and mittens off me: my wife had seen me coming and apparently I was weaving around so they rushed out and dragged me home.
On another occasion I had occasion to make a fur patrol from the cabin over the first range into the Cataract Creek and Wilkinson Creek areas. It was a three-day patrol but had a stopover cabin on Wilkinson Creek. I started out with a backpack and one pack dog, Tiny. As we climbed the east face of the first range up to Salter Pass I found an icy patch on the snow cornice, and had difficulty digging the edge of my snowshoes in to get a grip. The dog had difficulty with her footing; she got on the upper side of me and knocked me off balance and we both went careening down the snow cornice to end up in a spruce tree that sticked out of the snow like a small bush. We had to climb straight up the snow cornice using my rifle butt to make toe holds. Over the summit of the pass I encountered fresh, loose dry snow into which I went knee deep even on snowshoes. It was very heavy going down to Cataract Creek and up to its junction with Wilkinson Creek, and by the time I reached the turnoff, darkness had settled in. I plodded up the trail and suddenly broke through into water: the creek had flooded like many mountain streams do, then the fresh snow had settled over, and as a result my snowshoes iced up and were picking up snow. I'd beat them against a tree and try to keep going as the stopover cabin was not too far ahead. I should have stopped and built a fire to dry off the snowshoes but kept going instead, and by the time I'd reached the cabin I was all in. Reaching up with my pliers I cut the wire suspending two mattresses hanging from the rafters and I dropped on the mattress to rest. Presently from afar off something was pushing me and kept pushing me till I realized the dog Tiny was pushing her muzzle under my head trying to raise me up. I was stiff with cold, my hands were like claws, and I had great difficulty striking a match to get the fire going, even with the pre-cut kindling left in the cabin.
We had supper about midnight and I know that if Tiny the St. Bernard dog had not roused me, I would have frozen to death, the temperature being well below zero.
On another occasion I had to attend a ranger convention in Red Deer, and that meant traveling with horses to the Cartwright D Ranch, and then in my pickup truck to Red Deer for the next three days. When we left Red Deer a severe snowstorm blew up and we had to spend the night in a Calgary Hotel. Next day we continued, stopping in High River to gas up, and to Pekisko with the snow up to the bottom of the radiator. After leaving the E.P. Ranch the going got really tough: I kept breaking the tire chains and repairing them with wire, all in a driving snowstorm. Finally my chains gave out and we were stuck solid. My harris tweed suit was a cake of ice from the driven snow. I kept the motor running trying to keep warm.
Presently two riders appeared, Jim Cartwright from D Ranch and my son, who were headed for the E.P. Ranch to pick up the mail. My son returned to the ranch and brought back a team of horses and sleighs, and by the time they got back the drifted snow was as high as the truck hood. I had to boost Kathleen up to reach the sleigh.
We spent the night at the ranch and next morning I was running a high temperature and delirious. I had to stay there for ten days before they could take me to my own cabin; meantime I regained consciousness in time to hear a conversation. They were saying they would fill the sleigh with hay and haul me to hospital in High River, about twenty-five miles. I said no: I was on the mend. I think the cold cured me, as there was a snowdrift inside my bedroom that reached from half-way up the window to the floor. No central heating in those days!
Later that winter I was notified to attend a ranger school in Banff. This necessitated my snowshoeing twenty-five miles to Longview where I could catch a bus. This first ranger school, in conjunction with the Park Warden Service, was the forerunner of the present-day forestry school at Hinton, Alberta. I enjoyed the school very much and gained much useful information to serve me well in the years ahead.
At the Banff Warden-Ranger Station I met an old acquaintance: Bill Black, who had gone overseas with my regiment, the Calgary Highlanders. At that time he had been warden at Cyclone Cabin on the Red Deer River. He was invalided home in 1940 and returned to the warden service. At the time of the Banff school Bill was warden at Saskatchewan Crossing from where he and his wife skied in eighty miles to attend. After his warden service Bill Black became a Fish and Wildlife Officer but died suddenly in his office from a massive heart attack. Mr. Black came to visit us when we were at the Upper Saskatchewan Ranger Station.
Such are memories of old friends!
That winter, 1949, there was an international ski jumping event in Banff which we were privileged to witness, and we met contestants from several European countries in the dining room and elsewhere.
While I was at school there was an advertisement for a competition for the position of ranger in the McLeod District of the Athabasca forest, with headquarters at Hinton. As the head ranger from the Athabasca Forest, Gordon Watt, was also at the school, I with the others was able to get details of the position, but I did not apply as I was not particularly interested in moving north.
The competition closed and I had returned to Pekisko when I got a radio message via telephone from my district ranger, asking me if I had applied for the McLeod District. I was a bit disturbed by the message and felt I was on the spot. After deliberation I sent an application in, and promptly back came a message to arrange locally to have my furniture moved, that a truck would be sent down from Edson for my horses.
Walt Richardson came down to Pekisko and hauled my six horses to Entrance Ranger Station. Myself, wife, three children, three St. Bernard dogs and a cat in a box traveled in my pickup truck. We made it to Spruce Grove on the first day and spent the night there; next day to Hinton, stopping enroute in Edson, which was headquarters for the Athabasca Forest. While having lunch I phoned my new superintendent Donald Buck, whom I had not yet met. He came down to MacDonalds Restaurant to meet me and I took the opportunity to ask him if they didn't get applicants for the first competition. "Yes," he said, "we got ten but didn't want any of those S.O.B.'s."
There was a small branch of the Royal Canadian Legion in Hinton and just after arriving there I was requested to take over as secretary. My first job as such was to write to the former secretary care of Her Majesty's Prison at Fort Saskatchewan informing him he was expelled from the Legion. He had been sentenced to five years for contributing to child delinquency. He had moved in with a woman who had two young teenage daughters.
Upon arrival in Hinton we only had a very small house, the best we could rent, built mainly from old packing cases. The main room had to be our dining room, bedroom and my office. Mr. Buck was there very next day and I had to assist him with a cruise of a timber application. Next we had to go out and look for two very tall poles with which to erect my radio antenna. Then we made a tour of the district to orient me, as the district immediately east of Jasper Park, south from the Athabasca River to Greg River, McLeod Cabin to McLeod River and Yellowhead Cabin, was all strange territory to me. The assistant ranger on the district when I arrived at Hinton was Erwin Kellerman, but he had not learned about the trails. I had him guide me to McLeod Cabin but we got lost in a maze of beaver dams and I had to find the trail myself. Next I had to locate all my timber operations — twenty-two berths and sawmills — familiarize myself with the conditions applicable to each one, and make inspection of those ones operating year round. Some operations were only operable during winter months, at which time of year I had to inspect all operations twice a month, as well as assist Charlie Jackson (the assistant superintendent in Edson) in cruising new timber applications. Also as game officer I had to look after the interests of game and fur, issue licenses for the taking of both and investigate and prosecute under the Game Act. Beaver poaching and taking illicit game was quite common.
This is one of the more difficult passages to read. One of the strengths of native culture is the communal responsibility for raising children, so for John and Kathleen to have so badly misinterpreted this custom, to have seen it as a sign of moral dissolution, is profoundly unfortunate.
Hinton in 1950 had only four white families of which we were one, the rest of the population being half-breed families and Indians, and all our children went to one small school. The children would come home from school with stories of some children having a new father, for it was quite common for a man to go off working in the bush and then another man would move in with his wife and family. It was not a good environment for our children and eventually my wife said she would not live there.
I kept pretty busy with work on trails, the phone line, and inspecting timber operations on horseback and with packhorse. Some of the timber operations only operated in winter when the muskegs were frozen and access was possible across frozen roads. In winter when all operations were at full capacity I inspected twice each month, traveling by dogteam, on a circular route of over sixty miles. Some nights I camped in the bush, some nights I stayed in the lumber camps.
Occasionally in summer I managed to visit the closed winter operations to see all was well. Sometimes I found that some camps had been ravaged by bears. If the operators did not remove all food when they closed down in spring the bears would find it and tear the camp to pieces. I have seen checked oilcloth table coverings scattered shredded in surrounding woods, cutlery and utensils everywhere simply because they had left two partially-filled twenty-five gallon pails of jam and molasses. The camp buildings were generally roughly constructed of double boarding with tar paper between, an ideal haven for flies. The bears, especially grizzly, could reach up eight feet, dig their claws in and strip the wall down to get the flies and sometimes bees.
On one occasion I took a different route on timber inspection, traveling by dogteam to visit twin small lakes which I wished to see. It was tough traveling breaking trail in front of the dogs, and I did not reach my destination till almost dark and there was a pack of wolves out in the middle of the one lake. This was unusual as wolves rarely traveled in the open but kept close to cover.
I got out my rifle but it was too dark to see the front sight. The wolves were fairly compact so I pulled down on them: one jumped up in the air and fell dead, and the others took off. It was a fluke shot, very lucky! I set up my camp by hanging the tarp off my toboggan on a rope strung between two trees; I cut spruce bows for my bed and made a fire in the open front and built a reflector of green logs on the outward side of the fire to reflect the heat into the shelter. This made it quite comfortable. By the time camp was set up and I had a meal it was time to turn in. I cut some wood shavings for morning and placed them and my boots inside the outer cover of my sleeping bag, nice and cozy. It was crawling out in the morning that was a bit invigorating!
My dogs settled down, one at my feet, two behind my sleeping bag at the back of the shelter, one at my head. The other used to stay beside the fire till he thought I was asleep and the fire died down, then he would come and push his nose inside the bag by my head. There he would stay till morning. The dogs were not tied up.
The temperature was between twenty-five and thirty degrees below zero so when the fire died down I didn't want to leave a nice warm sleeping bag. But when everything had settled down the wolves started to howl and the dogs would dive out to scare them off. They would scramble big feet all over me, I would call them back and the wolves would howl again, out would go the dogs barking with indignation. This kept up all night, and there was no sleep for me. By daylight the wolves were gone; the fact that I had shot a member of the pack had made them hang around. When I went out to retrieve the dead wolf, I found he was a black, over eight feet long. I found why they had been out on the open lake: it was shallow and they were digging out muskrat houses. It was three hundred and seventy paces from where I shot, truly a lucky shot.
There were quite a number of wolves in the McLeod Valley. In winter we exercised a poison control on them and the coyotes using cyanide guns set in trees. I kept finding an occasional coyote but no wolves. The wolves were seldom seen but would often follow my dogteam, keeping out of sight. They could travel further than the coyotes after the cyanide was shot into their throat, and I found the carcasses in spring.
The snow was a wonderful tapestry on which you could read signs of the different habits of the different animals and their hunting methods. In nature it is surely survival of the fittest. The wolf, our largest predator, has his place in the scheme of nature and generally takes the sickly animals, but on occasion takes stronger ones, I believe when they are training their cubs.
I read in snow the story of a kill by two wolves and four cubs of a large six-point bull elk. They got him singled out by himself and proceeded to drive him towards the river. When he changed direction they would head him off and gradually drove him towards the river and over a steep cutbank. I found the carcass partially devoured and I back-tracked to read the story.
The town of Hinton was administered from the Department of Municipal Affairs in Edmonton, and an inspector came to Hinton every month. He always contacted me of course. Once he offered to sell me Hinton for two thousand dollars. I laughed at him. "If you can't collect the taxes how could I," I told him. "Well," he said, "make us an offer."
Hinton today is a thriving town and community with the main employer being the pulp and paper mill. I believe there are some coal mines operating too, a vast change since I was ranger there.
As forest ranger, or Forest Officer, when I was awarded the district I was automatically promoted to Forest Officer I. A few months after taking over, one of my timber operators went broke. They operated four timber berths, two sawmills and a planer mill, and a bank receiver was appointed. I suspected some discrepancies in their returns on the business they conducted, and had to do a complete audit of their whole operation. The log report proved to be wrong and their books showed only sixteen thousand board feet of lumber on hand but on completion of my audit I found a hundred and fourteen thousand board feet. Their records of log output and manufacture were merely guesses at best. The bank had hoped to cash in on the deposits on each berth and take all the assets; instead they had to appoint Johnston of Embarrass to manage the whole business to completion.
As a result of my efforts in inspection and auditing of this enterprise I was awarded a commendation by the minister of my department and promoted to Forest Officer II. Then when my anniversary date arrived in September I was promoted to Forest Officer III. Very good! From Assistant Forest Officer to Forest Officer III in one year. The forestry department was very good to me.