Time to Go to Work!
1924-1925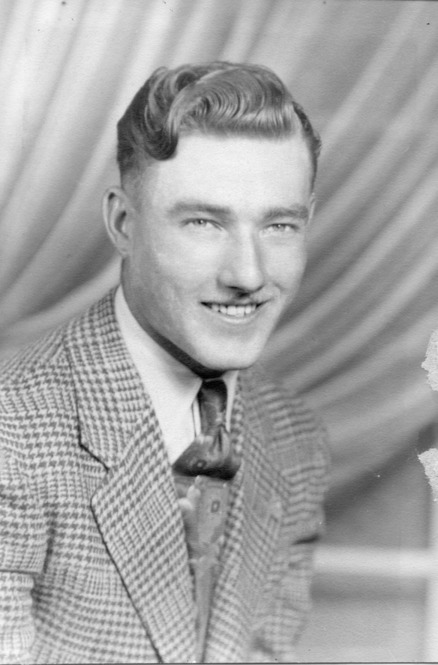 Robert Elliott (b.1925)
John's brother Robert Kean Woods Elliott ("Uncle Bob") was born on the Cawdor Estate on June 26, 1925. Therefore it seems likely that the grouse shooting episode at Drynachan described in the previous section took place in August of 1924.
You can read a different view of these times in Bob's own words.
While I was away for the shooting at Drynachan my home was in Fortrose where I attended high school, and on my return my father was engaged to work for Lord Cawdor and moved across the firth. At that time he decided I must quit school, which I did not want to do, but he was firm about it. I got a job in the grocery store and talked to Rector McLeod who agreed to allow me to carry on some of my classes and work part time. I'd go open the store in the morning, sweep out the floors and spread fresh sawdust, make up some packages, perhaps make a delivery, then rush down to the school for classes and then back to the store. Meantime I lived with the storekeeper who had a small family. My bed was made up on four kitchen chairs. Some weekends I would go visit my home and parents by crossing the narrows between the lighthouse at Fortrose and Fort George on the Morayshire side, then by bicycle to Cawdor. On the return trip I would come back to Fort George and pull up a large white board which was the signal for a ferry man to come pick up a passenger, which he transported in a small motor boat. On one occasion when I got to Fort George the sea was too rough to cross for three days, and I was put up by the soldiers in Fort George in the meantime. Fort George, built in 1746, in those days was the depot for the Seaforth Highlanders. It is now only a museum!
I kept on working and going to school for a time but soon became frustrated and gave up both, and returned to Cawdor. I next found a job with a sheep contractor who used to winter sheep brought in from the Western Isles to winter on the mainland turnip fields. The farmers grew a lot of turnips for livestock feed, but they only harvested four rows out of every six, the remainder being let out for winter feed for the sheep. I started out with two thousand in lamb ewes who were given a small portion every second day. They were fenced into their daily portion of the field with a rope net fence strung on light pickets. When they had eaten all the turnips, we would pick the roots loose, and these too were eaten till there was nothing but bare earth. Then they were given another portion, the rope nets had to be taken down, the pickets driven into the new locations, and the nets were restrung. This was where my dog entered the picture. When I started to work with the sheep I bought an old female sheep dog called Fay and she taught me about sheep. When I would drop the rope nets and move the pickets, old Fay would lie with her nose on her paws, and would not permit any sheep to cross the black dividing line until I had the fence erected and called her back.
I had to walk five miles each way to work and one day towards spring my employer asked me to look after a further two thousand toups (rams) which he was wintering for the Scottish Board of Agriculture. The shepherd lad on that farm had quit, and I was doubly busy. It was now nearing spring and time to move the herds to their home range, and my ewes had to be driven to the coast and loaded on boats to transport them to the Islands. Moving sheep by road is a very slow job. My ewes had started to drop their lambs but, as they moved slowly, in only a few minutes the newborn lambs were up and tottering after their mothers. There were now three of us: an older shepherd, myself and another young man who drove a cart into which we put the weaker lambs, not many as most of the little fellows tottered along, although sometimes they were separated from their mothers. It was a bedlam of bleating sheep with the dogs scurrying around the herd, pushing along the stragglers.
I went to work for a month for Willie MacKenzie, shepherd at Dulcharn on Drumossie moor, where the battle of Cullodan was fought in 1745 (the last battle in the British Isles). I had to push the sheep back to high ground from their wintering ground in the low country; the stupid animals had to be driven back every morning for a month before they would relocate on their previous summer's range.