I Enlist in the Permanent Force
1925-1927
As fall started things were pretty quiet. I craved some change, so I took off on my bicycle up over the glen ridges through Drumnadrocit along Loch Ness to Inverness and rejoined my regiment, the Queen's Own Cameron Highlanders, but in the regular, permanent, force this time.
I liked the army life and training; we were very proud of our uniform and very proud of our regiment. Alan Cameron of Erracht was commissioned to raise the regiment, 79th of Foot, in 1792 to fight in the American wars. It was called the Queen's Own Cameron Highlanders. It happened that Alan Cameron's mother was a MacDonald so she combined the Clan Cameron tartan with the MacDonald tartan and so devised a purely regimental tartan.
The British Army discipline was pretty strict in those days. We had to adjust to that, or else! My first experience was on a charge of dumb insolence. We had a large barrack room, housing thirty-six men, heated by only two fireplaces and a limited supply of coal. On moving into our permanent quarters I grabbed the bed second to one fireplace, the first bed being occupied by the corporal in charge. On the first Friday, inspection day, the corporal said, "Scrub out under my bed, Elliott." I just looked at him and he fell in two men and I was marched to the guardroom to spend the night. At orderly room next morning, charged with dumb insolence, I was allowed off with only a severe reprimand. First offence.
During that winter of 1926 my parents with their six children got the idea of emigrating to Canada, under the Assisted Passage and Soldier's Settlement Scheme for which my father was eligible. My parents wanted the whole family to emigrate. Since I was in the army and wanted to stay there they started campaigning to have me go along. As I was still under age all they had to do was produce my birth certificate, but they didn't want to force me.
Every Saturday afternoon one of my parents would meet me in the neighbouring town of Beauly and try to persuade me. About two weeks before they were to leave, my father said, "I will need some help, I will be getting a hundred and sixty acres of land." This changed the whole thing, because by the old country methods of farming that amount of land would require five or six men to operate.
I agreed to go to Canada. I have never regretted it!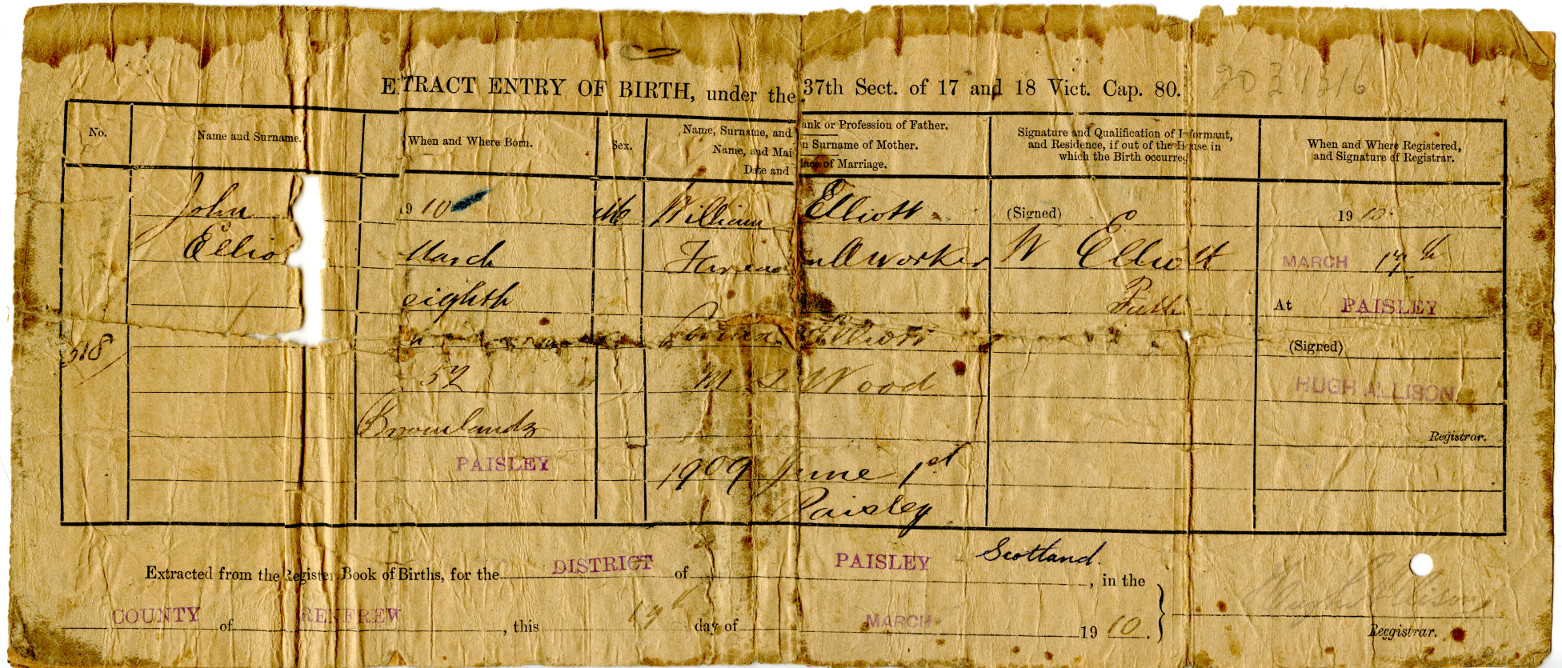 John Elliott's birth certificate
Here is John's birth certificate, which lay tucked inside his mother's Bible for many years. This is probably the same piece of paper that Robina brought to the Cameron Barracks at Inverness that day to get her son out of the Army.
It is interesting that Robina's maiden surname is spelled "Wood", not "Woods". This same error appears on her marriage registration. On her original birth certificate, however, the name is clearly spelled Woods, and that is also how she spelled her father's name on the inscription page of her Bible. Furthermore, the family name is spelled with an s on the Census going back at least as far as 1861.
See the family tree.
On the following Tuesday morning while on gym parade I was ordered to report to the orderly room. There Captain Leah confronted me with "How old are you?" "Eighteen sir." I answered. "Ever see this?" and he produced my birth certificate and told me to sign my discharge papers, which he had ready. I was discharged on the 27th of February 1927 with the reason of having made an amiss statement as to age on enlistment. By midday I had turned in my uniform and walked out of barracks.
I returned to my home at Cannich but soon found myself working. A widow woman down the glen heard I was home and as her hired man had quit she asked me to plough her lea, or grassland sod. She had a croft of five acres of arable land and a portion of hirsel, mountainside, on which she ran a considerable herd of sheep. The first morning she had my two horses fed and I proceeded out to plough. At eleven o'clock when I quit for the midday break of two hours, I found hay for the horses but no oats. On asking the old lady where the oats were she told me I would have to thresh them. She proceeded to show me how. In the barn she had a creation like an old-fashioned fanning mill, about two feet by four feet and about three feet high, a small hinged table on the side, and a large flywheel on the other side, equipped with a saddle-like seat and two treadles. She climbed on the seat, grabbed a portion of the oat sheaf, gave the flywheel a push to start and commenced pedaling away. It was simply a bar drum which knocked the head off the straw. This was continued 'till there were sufficient oats to feed the horses. It was the most primitive method of threshing grain, other than a flail, that I had ever seen; the start of modern technology in this field.
I continued working for the old lady 'till I was ready to leave for Canada.
You can also read the story of the the trip to Canada in greater detail, as told by John's sister Peggy, here.
After a roupe, auction, of our home possessions we proceeded by train to Glasgow where we boarded the S.S. Athenia of the Anchor Donaldson line. The Athenia was the first British ship sunk by a German submarine in 1939 after the start of World War II. She was torpedoed in the Atlantic off the coast of Scotland while she was carrying a boatload of children being evacuated to Canada for safety; all were lost at sea.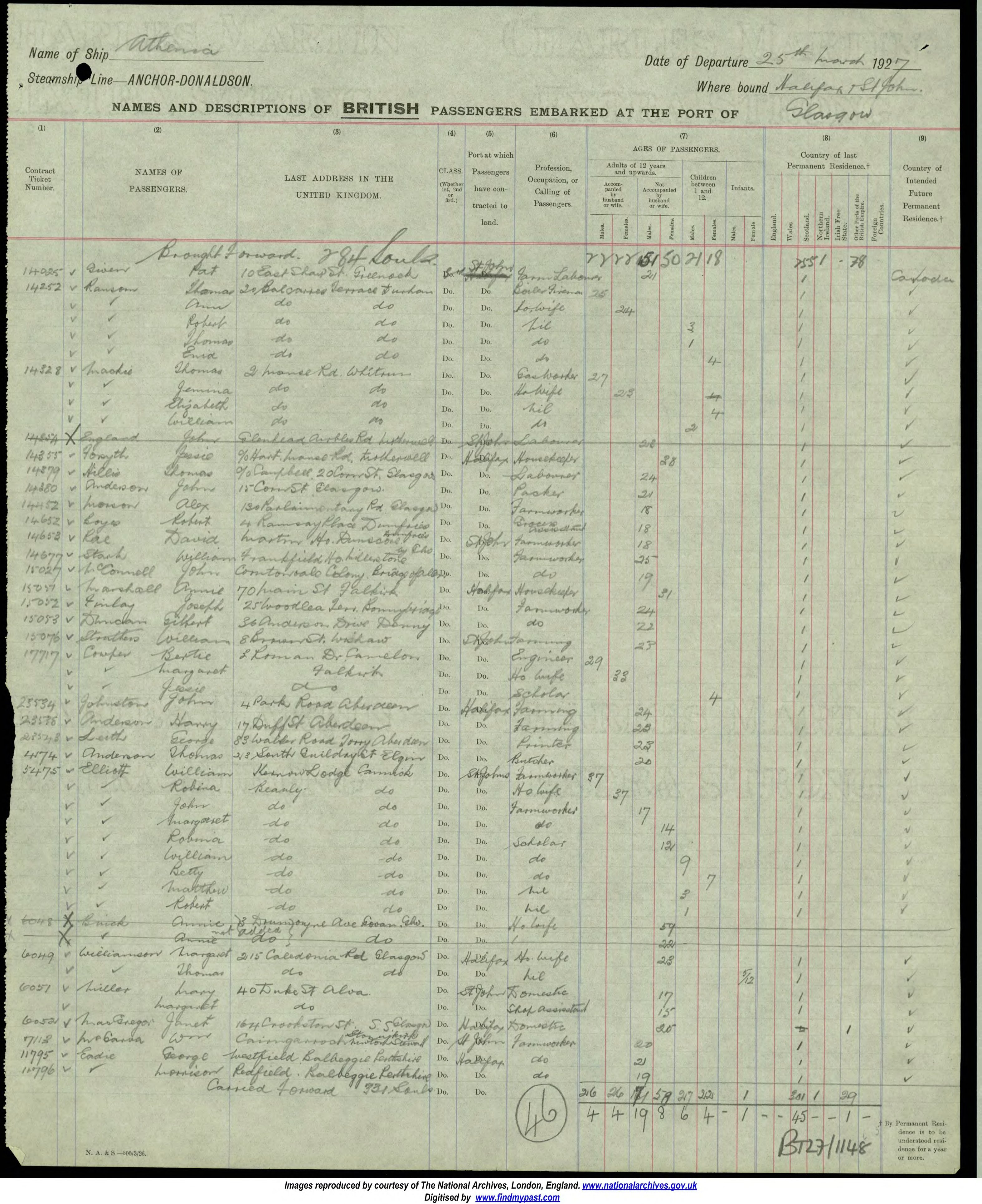 S.S. Athenia passenger manifest
You can read the pages from the Athenia's passenger manifest, documenting the family's voyage, here.
The Athenia sailed from Glasgow on the 25th March 1927. We laid to off the north coast of Ireland where the passengers from Ireland boarded us. Having been brought out from Ireland on a lighter (smaller ship), many of the Irish passengers were already seasick before they boarded our much larger ship.